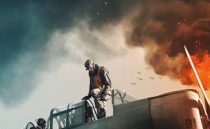 From long time blockbuster director Roland Emmerich, comes the visually spectacular WWII film Midway. The movie is the epic, real-life saga about an undermanned American fleet and the brave Navy leaders and pilots who triumphed, against the odds, over a powerful adversary.  With democracy and freedom at stake, these U.S. sailors bested the Imperial Japanese Navy at the Battle of Midway, a most stunning clash by air and sea which marked a heroic feat of naval warfare and pivoted the Allies toward victory in the Pacific Theatre during WWII.
The film's cast includes Ed Skrein, Patrick Wilson, Luke Evans, Aaron Eckhart, Nick Jonas, Etsushi Toyokawa, Tadanobu Asano, Luke Kleintank, Jun Kunimura, Darren Criss, Keean Johnson, Alexander Ludwig, with Mandy Moore, Dennis Quaid and Woody Harrelson.
Midway will be released in cinemas across the UK on 8 November 2019 by Lionsgate UK.
Latest posts by
John McArthur
(see all)