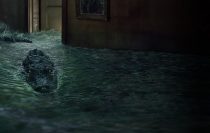 Ahead of its UK cinema release this coming Friday, there is a new clip for the horror film Crawl with the title Levee breaks.  The film has been getting some very good reviews as it is released in other territories and as it comes from director Alexandre Aja, there is an expectation of a good quality movie.
When a massive hurricane hits her Florida hometown, Haley (Kaya Scodelario) ignores evacuation orders to search for her missing father (Barry Pepper). Finding him gravely injured in the crawl space of their family home, the two become trapped by quickly encroaching floodwaters. As time runs out to escape the strengthening storm, Haley and her father discover that the rising water level is the least of their fears.
Crawl is in cinemas from the 23rd of August
Editor-in-Chief at Moviescramble. A Fan of all things cinematic with a love of Film Noir, Sci-Fi and Julia Roberts in Notting Hill. He hopes to grow up some day.
Latest posts by John McArthur (see all)