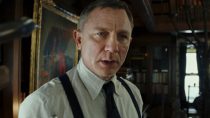 It has been announced that one of the American Express gala screenings at this year's London Film Festival will be the European premiere of Rian Johnson's Knives Out. The much anticipated murder mystery features a cast that is frankly, an embarrassment of riches. In the role of the lead detective is Daniel Craig and he is ably supported by the likes of Chris Evans, Ana De Armas, Jamie Lee Curtis, Toni Colette, Katherine Langford and Christopher Plummer.
The film has a gestation period of over a decade and was only able to be realised once Johnson had upped his profile after he successfully brought The Last Jedi to the screen. The plot revolves around a very suspicious event at a country house. When renowned crime novelist Harlan Thrombey (Christopher Plummer) is found dead at his estate just after his 85th birthday, the inquisitive and debonair Detective Benoit Blanc (Daniel Craig) is mysteriously enlisted to investigate. From Harlan's dysfunctional family to his devoted staff, Blanc sifts through a web of red herrings and self-serving lies to uncover the truth behind Harlan's untimely death.
Knives Out will screen at the 2019 London Film Festival on the 8th of October and be released nationally on the 27th of November.
Latest posts by
John McArthur
(see all)