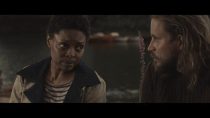 Homeless Ashes, a new British independent feature, will have its UK Premiere at this year's prestigious Raindance Film Festival this September. London-born actor Marc Zammit is making his directorial debut with the film which shines a light on homelessness and gives homeless people a voice.

Marc says  "We are honoured to be part of this world-renowned independent film festival. I am so proud of all the cast and crew who did such epic work for this film by going above and beyond. We have achieved so much over the last four years and I am seriously forever grateful. They believed in my film and trusted in me, and joined me on my journey to make this story of one homeless boy. Each person living homeless has a story and deserves to be heard. They are homeless, not invisible. I met many of them living on the streets of London whilst researching for this film. It is dedicated to them. I am so proud of all the cast, crew and supporters who have done such epic work for this film by going above and beyond to tell this story."
Homeless Ashes tells the story of Frankie, a young boy (Hector Bateman-Harden) who runs away from an abusive home and grows up trying to survive on the streets – adult Frankie is played by Marc Zammit. After fleeing from his parents Stuart (Dean Maskell) and Abbie (Angela Dixon), he falls-in with junkies including Viv (Kirsty J. Curtis) and Ryan (Lee Hunter), makes honest friends in Gavin (Jason Flemyng) and Chico (Lew Temple), and is reunited with childhood friend Nicole (Jamey May). But living on the streets is tough and not everyone survives. Andrew Lee-Potts, Fabrizio Santino, and US actress and singer Maria Howell also star.
Homeless Ashes screens at the Raindance film festival on the 23rd of September.
Latest posts by
John McArthur
(see all)