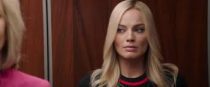 Just out is the first teaser trailer for the forthcoming drama Bombshell. The film is a revealing look inside the most powerful and controversial media empire of all time and the explosive story of the women who brought down the infamous man who created it.
In 2016 Fox new founder Roger Ailes found himself the subject of a sexual harrasement law suit from Fox news anchor Gretchen Carlson. Despite his protestations and the initial backing of the company, the lawsuit did not go away was followed up by six other reports of sexual harrasment which contributed to the eventual dismissal of Ailes.
The film dramatisation of the events stars Nicole Kidman, Charlize Theron, Margot Kidder and John Lithgow with support from Kate McKinnon, Connie Britton, Mark Duplass, Rob Delaney, Malcolm McDowell and Allison Janney.
Bombshell is scheduled to be released on the 20th of December 2019.
Latest posts by
John McArthur
(see all)