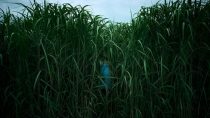 In the Tall Grass, based on the short story by Stephen King and Joe Hill, will open Sitges 2019. This Netflix original movie is directed by Vincenzo Natali and stars Patrick Wilson, who will present the film at the Festival. The Sitges Festival will be opening its 52nd year on October 3rd with a story by the master of horror, Stephen King. In the Tall Grass is the latest film from Vincenzo Natali, the renowned director whose talent has been acknowledged at previous Festival editions thanks to films like Cube (winner of Sitges 1998), Cypher and Splice. So Netflix is relying on Sitges to present one of genre fans' most eagerly awaited movies.
The film is the adaptation of the story by the same name that Stephen King co-wrote with his son, Joe Hill, and which was published in two parts in Esquire magazine in 2012. It is a claustrophobic horror story with supernatural elements, featuring siblings Becky and Cal. After hearing a young boy's cry for help, they both venture into an immense field of tall grass in Kansas, and wind up being trapped by a sinister force that quickly disorients and separates them. Isolated from the world and unable to escape the field's control, they will soon discover that the only thing worse than being lost is being found.
One of its stars, Patrick Wilson – a familiar face in genre films such as Insidious, The Conjuring or Aquaman – will be visiting Sitges 2019 together with its director, Vincenzo Natali.
Latest posts by John McArthur (see all)