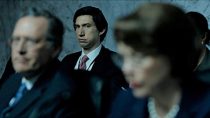 Curzon today released the new teaser trailer for The Report, set for UK nationwide theatrical release on 15 November, before streaming on Amazon Prime Video on 29 November. Starring Adam Driver, Annette Bening, Jon Hamm, Maura Tierney and Michael C. Hall, the film is written and directed by Scott Z. Burns. It received its world premiere at the Sundance Film Festival early this year and will receive its international premiere at Toronto International Film Festival on 8 September.
Following 9/11, the CIA operated 'enhanced interrogation', an intelligence programme they claimed was "safe, legal and effective". In truth what they built was brutal, twisted and incompetent. THE REPORT tells the real-life story of Daniel J. Jones (Adam Driver), a senate staffer who worked for six years with a very small team to reveal that truth, and to hold America's institutions accountable in the face of cynical politics and fear.
Editor-in-Chief at Moviescramble. A Fan of all things cinematic with a love of Film Noir, Sci-Fi and Julia Roberts in Notting Hill. He hopes to grow up some day.
Latest posts by John McArthur (see all)