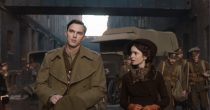 To coincide with the DVD release of Tolkien, there is a couple of deleted scenes that are now available for viewing. The two scenes, 'Danger in the trenches' and 'Captain of a ship commentary' though not essential to the overall story add a little more background to the person that was J.R.R. Tolkien. Both scenes are included in the disc release of the movie.
From legendary halls of Oxford to the grim and bloody trenches of World War I, this enthralling biopic explores the early years of J.R.R Tolkien (Nicholas Hoult) and the relationships that defined the legendary author he would become. Chronicling his romance with Edith Brant (Lily Collins), as well as the various members of the Tea Club, Barrovian Society, Tolkien slowly grows from a shy and bookish young man into one of history's most beloved writers – seasoned by life, and everything that comes with it.
Tolkien is available on VOD from the 26th of August and DVD & Blu-Ray from the 9th of September.
Latest posts by John McArthur
(see all)