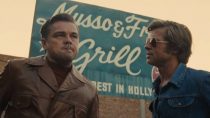 Join Thomas, Mary and John as we review Quentin Tarantino's Once Upon a Time in Hollywood. Don't worry if you haven't seen it yet, we make sure to avoid spoilers. We also discuss our top 3 Tarantino moments and mourn the future of Spider-Man as Sony and Disney look to are on a break.
Find us on
iTunes: https://podcasts.apple.com/gb/podcast/moviescramble/id1466571460
Spotify: https://open.spotify.com/show/42wPn0tXvH3GQJ2E3NYDYp?si=kfZn7GKKRyqr8E_wzvQvZQ
and all android devices.
Find us on Facebook, Twitter and Instagram @Moviescramble
You can also email us at podcast@moviescramble.co.uk with any suggestions or general thoughts. All hate mail will be framed.
Please remember to like and subscribe.
Latest posts by Thomas Simpson
(see all)