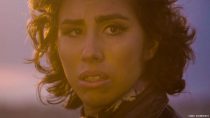 Ponyboi, is the first narrative film, by and starring an out intersex individual in cinema history. River Gallo and Sadé Clacken Joseph direct this live-action short capturing a charming young intersex man who turns tricks in the New Jersey Laundromat where he works. The Ponyboi, an Intersex sex-worker, looks for love and to escape his seedy life in New Jersey. Through an encounter with the man of his dreams, Ponyboi discovers his worth. It is executive produced by Stephen Fry and Emma Thompson, starring River Gallo, Keith Allan, Arron Schwartz and introduces Sophie Labelle. In the film.
River Gallo is a Salvadorian-American intersex filmmaker, actor, writer, model and advocate with interACT. He is a graduate of NYU's Tisch School of the Arts Experimental Theatre Wing and the University of Southern California's School of Cinematic Arts MFA program. Ponyboi is his USC thesis. River was named one of the "Most Exciting Queer People to Follow in 2019" by Out Magazine and made Paper Magazine's list of "100 People Taking Over 2019". He and Sadé Clacken Joseph co-founded Gaptoof Entertainment, a multi-media production house in Los Angeles, which focuses on intersectionality and creating inclusive spaces for POC, LGBTQIA+, and female narratives.
Editor-in-Chief at Moviescramble. A Fan of all things cinematic with a love of Film Noir, Sci-Fi and Julia Roberts in Notting Hill. He hopes to grow up some day.
Latest posts by John McArthur (see all)