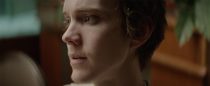 Madeleine Gottlieb's Australian short film Snare stars Steve Rogers and James Fraser. This father-son drama premiered at the South by South West Film Festival and followed up with a screening at the Tribeca Film Festival in New York. The film is set at a late-night Chinese joint in 1997, Steve – a 50-year-old dad with a hunched back and blistered hands – waits for his son Jobe to arrive after a gig with his punk band The Nosebleeds. They each need something life-changing from the other. Amongst plates of steamed dumplings and sizzling Mongolian beef, Steve and Jobe wrestle with one another's needs and ambitions as parental roles are reversed and expectations inverted.
Madeleine Gottlieb is a writer, director and producer from Sydney, Australia. Her directorial debut I F*cked a Mermaid and No One Believes Me received its international premiere at Interfilm Berlin / KUKI Berlin and its Australian premiere at Flickerfest in Sydney. In 2018, she wrote feature film Panyee for Revlover Films. Beginning her career as a Production and Development Executive at Goalpost Pictures, Madeleine worked on high-profile productions including Matthew Saville's Felony and Neil Armfield's Holding The Man. In 2016 she was Associate Producer on Season 2 of SundanceTV's Cleverman. Now at Revlover Films (the sister company of Revolver) she works closely with producers Martha Coleman and Lauren Edwards whilst developing her own slate of projects independently, including a feature film adaptation of Snare. As a filmmaker she is particularly interested in exploring contemporary masculinity.
Editor-in-Chief at Moviescramble. A Fan of all things cinematic with a love of Film Noir, Sci-Fi and Julia Roberts in Notting Hill. He hopes to grow up some day.
Latest posts by John McArthur (see all)