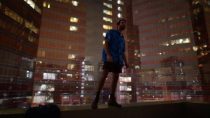 In Leave The Bus Through The Broken Window, a hapless American expat arrives in Hong Kong to document an international art fair, but struggles in the unfamiliar city under the weight of his own emotional baggage. On the tail end of a failed relationship, filmmaker Andrew Hevia sets out to make a documentary about the Hong Kong edition of Art Basel, the largest and most prestigious  contemporary art fair, but finds himself completely unprepared. So, he turns the camera on himself and the film becomes a deeply personal and unexpectedly comedic story about authenticity, heartbreak and that time he got lost in a shopping mall.
The film is narrated in second person by a text to speech program, yet manages to remain both accessible and revealing. At once irreverent and heartfelt, the film is an idiosyncratic film about the search for self in an unfamiliar world.
Leave The Bus Through The Broken Window is Andrew Hevia's feature directorial debut.  Hevia co-produced the three-time Academy Award-winning film Moonlight and is a co-founder of Borscht Corp, the non-profit film collective behind Miami's celebrated Borscht Film Festival, once called "the weirdest film festival on the planet" by Indiewire.
Leave the Bus Through The Broken Window premiered at the 2019 SXSW festival.
Latest posts by
John McArthur
(see all)