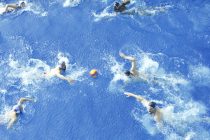 Coming to UK cinemas this week is the new comedy, The Shiny Shrimps. After making a homophobic remark on TV, World Champion swimmer Matthias Le Goff (Nicolas Gob) receives his punishment: to train the flamboyant and unmotivated The Shiny Shrimps – a gay water polo team notorious for being terrible at the sport, as they prepare for the world's biggest LGBTQ+ sporting event – the Gay Games in Croatia. But before they can get there, serious coach Matthias must rein in their wild behaviour, both in and out of water – a hard feat whilst also facing his own personal and professional challenges.  Despite their differences, the team secure a surprising qualifying win which is sure to boost morale and make them more committed to the water than the nightclubs. But as The Shiny Shrimps continue to misbehave, Matthias must decide where his priorities lie and make an important decision that will affect those closest to him.
Cedric Le Gallo, Co-author, co-director and real-life Shiny Shrimp states "This film is inspired by my real-life gay water polo team that I've travelled the world with for the last 7 years, from tournament to tournament, including the Gay Games. When I joined the Shiny Shrimps, I was well aware I'd embarked on a unique life-changing adventure and wanted to stand up for our core values: freedom, the right to difference and excess, and above all the triumph of humour over the serious side of life. Ultimately, they're universal values."
Editor-in-Chief at Moviescramble. A Fan of all things cinematic with a love of Film Noir, Sci-Fi and Julia Roberts in Notting Hill. He hopes to grow up some day.
Latest posts by John McArthur (see all)