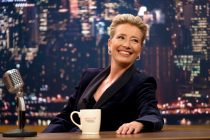 Women Over 50 Film Festival (WOFFF), the UK's only international film festival celebrating and showcasing the work of older women in a central role — either on or off the screen — returns for its fifth year. This year's festival, taking place at Depot Cinema, Lewes from 20-22 September, will open with the work-place feature comedy Late Night, starring Emma Thompson, and close two nights later with Benedikt Erlingsson's Icelandic black comedy Women at War starring Halldóra Geirharðsdóttir.
The main programme of 51 short films, from 15 countries, includes director Fi Kelly's The Last Mermaid starring comedian Janey Godley as Pearl, an overweight, chain smoking, Irn Brew swilling mermaid; Tara Fitzgerald directing Rachel Stirling and Linda Marlowe in Nothing Important, the chilling tale of one woman's efforts to steal her life back from her lonely female neighbour; Deb Ethier's animation The Seamless Cup Society which creatively uses the wonders of maths and science and a group of anonymous women to change the course of Menopausology, director Jonah Jones' Silent Ruin starring deaf actors Stephanie Black and Roger Hudson, produced by Jaye L Swift, which anticipates the end of the world, and what it will sound like, and Garry Crystal's atmospheric Down starring Amanda Donohoe, about two strangers who are trapped in a lift; one is dying; the other is dying to escape.
Nuala O'Sullivan, director and founder, Women Over Fifty Film Festival says, "WOFFF marks its fifth birthday this year putting older women centre-stage, either in creative control or on the screen. It's well documented that women in film still struggle to be seen or heard, and that's truer still for older women. I founded WOFFF because I passionately believe that older women must be seen and heard, regardless of their age –  or even because of it. Things are slowly changing. More older women are appearing on our screens in less cliched, more complex roles. But progress is slow: in 2016 the USC Annenberg study showed that women over 40 made up just 21.4% of female roles in film compared to 78.6% for men. I am very proud that WOFFF provides a showcase and forum for discussion and debate for under-represented and brilliant older women".
Actor, Amanda Donohoe says, "I'm a huge fan of dark comedy. Any story worth telling should have a liberal sprinkling of dark wit. And any woman over 50 needs a good sense of humour to navigate the joys of menopause, death, disease and funerals cos that's what's comin'! We need far more complex writing in film and TV for our age group… where is it!? Ah yes it's at Women over 50 Film Festival!"
BAFTA-winning director and supporter of WOFFF Tracey Rooney says, "WOFFF stands alone in giving much needed prominence and credibility to a highly talented group of women, too long ignored by the film industry."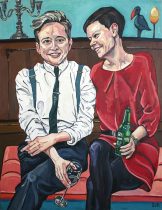 Short films from Australia, Canada, Denmark, Germany, Greece, Holland, Ireland, India, Italy, Japan, Nepal, New Zealand, Russia, UK and USA will be presented across eight curated programmes, all followed with discussions from filmmakers and guest speakers. Further highlights include: Sian Reeve's Alexa and Me about a woman who is struggling with her feelings of loss and outrage as her daughter leaves home for university; Alice Smith's documentary Invisible Women about Angela Cooper and Luchia Fitzgerald who are searching the city of Manchester archives for records of their lifetimes' work fighting for their rights as women and as lesbians; Lois Norman's portrait of artist Sarah Jane Moon She is Juiced: Slice Four – Sarah Jane Moon who uses her brush to bring London's queer community into the limelight and onto the canvas; and Cecelia Condit's We Were Hardly More Than Children, a tale of an illegal abortion as lived by two friends on a journey through a world that has little concern for their survival.
The WOFFF Awards Ceremony on Sunday 22 September, will include the Emerald Life Audience Choice Awards and jury winners for Best Animation, Best Experimental, Best Documentary and Best Student Film Award. The winning film from each category will take part in the Best of the Fest 2020 UK-wide tour including to HOME, Manchester, Depot Cinema, Lewis and Duke of Yorks, Brighton among others. A new category this year, the Best Short Script sponsored by Sheddunnit Productions, will also win a script consultation with writer Helen Jacey.
The festival will include an Intimacy Workshop with Ita O'Brien, Intimacy Coordinator and Movement Director for film, television, and theatre, who recently worked on the sex scenes in Gentleman Jack.
Full festival line-up can be found at  http://wofff.co.uk/
Latest posts by
John McArthur
(see all)