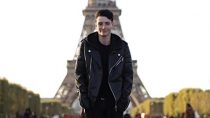 Lauren Cooney's transcendent film was inspired by Gareth Edwards' Monsters and tells the story of a generation born knowing the end of the world is imminent. After enjoying an award-winning festival run this powerful film will be released this month and was created through improvisation and guerrilla filmmaking in the dangerous jungles of India. The film focuses on two friends seeking spiritual salvation in India away from their hedonistic and disconnected lives, in advance of the impending collapse of the Cosmos.
Award-winning writer/director Lauren Cooney's recent LBGTQI+ film Fluid premiered at the BAFTA-qualifying Underwire Film Festival. Lauren's Shut Eye horror series was released on Gunpowder and Sky's Alter platform earlier this year. Currently, Cooney is developing several comedy-drama projects for TV, as well as her Jewish LGBTQI+ dramedy feature film Banging Down Under. Pendulum is Lauren's debut short film and was created as a proof of concept for Lauren's upcoming feature in development, Retrieval.
Editor-in-Chief at Moviescramble. A Fan of all things cinematic with a love of Film Noir, Sci-Fi and Julia Roberts in Notting Hill. He hopes to grow up some day.
Latest posts by John McArthur (see all)