As the year came to an end, I realised there were some notable exclusions in my list of films seen from 2019. With two weeks off work, and a plethora of streaming options at my disposable, I put off my Top Ten list and looked at catching up with what I missed. But things didn't go to plan. So, now I sit in 2020 with the same list I've had for a few weeks now (Edit: wee tinker here and there). Some will agree, some won't, others will cry and there are those that won't even click. For those that have gotten this far, have a read and let me know your thoughts.
Peace and love x

10. The Irishman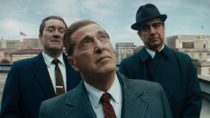 Martin Scorsese got the old band back together by reuniting Robert De Niro and Joe Pesci for his crime epic Netflix original. All the discourse around the director's Marvel comments were washed away with a movie that divided audiences who found it boring, captivating, too long or mesmerising. For me, the three and half hours runtime flew by as some of the greatest actors in history came together for, which felt like, one last time. Al Pacino gave his best performance in years as he shared the screen with De Niro again with acting sure to give the Academy food for thought.
9. Brightburn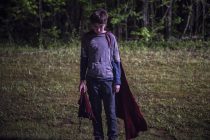 A dark take on the Superman legend shows us the familiar origin story of a childless farm couple finding a baby in a spacecraft. But what if the visitor from another world wasn't here to save us, what if he was indeed here to destroy us? David Yarovesky's nightmarish vision of an unstoppable supervillain is a fun horror that manages to remain fresh despite it's obvious influences. With rumours of the movie spawning its own shared universe, the franchise potential is certainly enticing.
8. Destroyer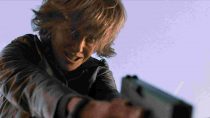 Nicole Kidman delivers an incredible performance in Karyn Kusama's grim crime thriller. Almost unrecognisable, Kidman portrays Erin Bell, a cop who's worn-down and consumed by guilt due to an undercover operation that ended tragically. This is a stripped back and honest movie devoid of any pretension. Kidman conveys and evokes pity as well as sympathy in her portrayal of Bell. Kusama frames the violence with a candid eye, pulling no punches at the beat downs her tortured protagonist suffers. It's uncomfortable viewing without being gratuitous or exploitative.
7. It Chapter 2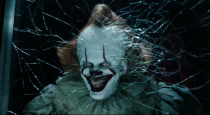 It Chapter Two is a brilliant conclusion to one of the best horror movies of the last thirty years. It's a more than worthy sequel that is allowed time to breathe and tell its story without needlessly rushing to the end. Chilling, disturbing and humorous, it denies to be constrained by its genre while shamelessly reviling in its traits. An outstanding film with a talented cast, it hits the right notes to deliver an epic experience. You'll float too.
6. Diego Maradona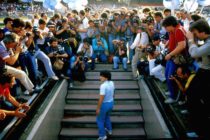 Considered the greatest footballer to ever live by many, Diego Armando Maradona is also known for his colourful and controversial life off the field. In his documentary, Asif Kapadia presents a portrait of a man who ascended from nothing to become a King and, ultimately, a villain. The film focuses on a specific era of Maradona's life that came to define him and etch him into the history books. A remarkable footballer with a remarkable story.
5. Doctor Sleep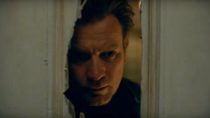 Doctor Sleep works on so many levels. As a sequel it invokes a macabre nostalgia while earning merit in its own right. Mike Flanagan respectfully pays homage to Kubrick while capturing the spirit of King's novel in a way the 1980 film opted not to. What it doesn't do is lean too much on what came before. Doctor Sleep is its own story that expands the mythology of King's world while sticking to the rules previously established. Frightening and captivating, you'll find it hard to look away even though your body is screaming for you to do just that.
4. Thunder Road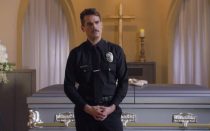 The opening scene to Thunder Road is difficult to watch as Jim (Jim Cummings, who stars, writes and directs) struggles to pay his respects at his mother's funeral. Are we supposed to laugh, cry or cringe? It's difficult to pigeon hole as all those actions are justified. A remarkable tale of a fractured personality and his downward spiral, Thunder Road is layered with so much emotion that it left me drained yet utterly fulfilled as the credits rolled.
3. Avengers: Endgame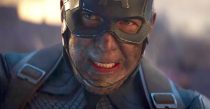 The resolution of The Infinity Saga lives up to expectations and, initially at least, not the hype. A second viewing dismissed my cynicism and confirmed this movie is as worthy as (we still doing spoilers? Surely, you've all seen it by now). Exciting and thrilling, it's a fantastic film that hits the right notes when it matters to deliver satisfying conclusions to so many journeys. It's been a long and winding road with many bumps along the way. In the end, the destination was more than worth it. I love it 3000.
2. Once Upon a Time in… Hollywood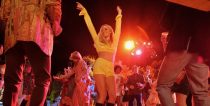 Quentin Tarantino presents his love letter to Hollywood and a Golden Age that's about to lose its innocence. As washed up actor Rick Dalton (Leonardo Di Caprio) and his stuntman, Cliff Booth, (Brad Pitt) look to resurrect their careers, their journeys run parallel to up and coming starlet, Sharon Tate (Margot Robbie). With the real life knowledge of her eventful fate, Tarantino keeps us on edge while misdirecting our gaze. Incredible performances by all involved, the end result is an absorbing and enthralling drama.
1. Joker
The concept alone with Joker is daring and ambitious. To deliver an original standalone film of a popular comic character isn't usually how it's done. The final product is bold and challenging, unlike anything we've seen from DC. Phillips has scraped the essence of the Joker character and infused it with a social commentary that's as stimulating as it is terrifying. Arthur hasn't fallen into a vat of acid, nor is his origin a mystery. It's exposed for all to see with each step of his rebirth carefully laid out. Phoenix is incredible in the role. It's a performance that will be talked about for years as he delivers a tragic, chilling and ultimately unnerving performance. His transformation from Arthur into the Joker is exceptional as he radiates a confidence behind the clown makeup. His walk and posture changes with Phoenix developing a frightening magnetism that draws us to him, his dancing enigmatic and distressing. It's an unpredictable portrayal that creates a tense atmosphere.
Latest posts by Thomas Simpson
(see all)