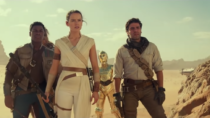 Thomas and John are joined by special guests Gareth and Graeme for our spoiler filled discussion of Star Wars The Rise of Skywalker. A saga that started 40 years ago in a galaxy far far away has finally come to an end. Let us know your thoughts on both the film and our own Episode XII.
Find us on
iTunes: https://podcasts.apple.com/gb/podcast/moviescramble/id1466571460
Spotify: https://open.spotify.com/show/42wPn0tXvH3GQJ2E3NYDYp?si=kfZn7GKKRyqr8E_wzvQvZQ
and most android podcast providers.
Contact us on Facebook, Twitter and Instagram @Moviescramble
You can also email us at podcast@moviescramble.co.uk with any suggestions or general thoughts. All hate mail will be framed.
Please remember to like and subscribe.
Latest posts by Thomas Simpson
(see all)