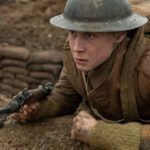 I know dark clouds will gather 'round me
I know my way is hard and steep
There is a scene, towards the end of Sam Mendes' 1917, where one young soldier stands up amongst his comrades fill the forest with his rendition of the 19th century folk song, 'Wayfaring Stranger'. The beauty in his voice is in stark contrast to the horrors of war that we have seen so far. His fellow soldiers, huddled around his feet, look haunted; their expressions those of young men who have been pushed to the very brink of their sanity.
Mendes allows us this moment to pause, and take in the song and the faces of those listening to it, after around 90 minutes of relentless action.
His latest sweeping epic – in memory of a family member who 'told him the stories' – centres around Lance Corporals Blake and Schofield (played by Dean-Charles Chapman and George Mackay respectively) and their mission to deliver a message to neighbouring troops. Although their destination is only a few miles away, they must cross German territory in order to save their brothers-in-arms from certain death.
From the minute Blake and Schofield go 'up and over', I held my breath. Danger seemed to be lurking around every corner; the scorched earth and abandoned posts peppered with dead bodies or torn-off limbs. Their mission seems entirely without hope from the offset.
Much has been made of the fact that the film has been shot to look like it is unfolding in one, continuous take. Whilst this draws attention to the art of film-making itself, it is by no means a gimmick. It feels like, as viewers, we are simply following the natural course of events.
Roger Deakins' cinematography contributes largely to this; his camerawork immersing you in the heart of everything. He creates a bleak palette for the young Lance Corporals; the skies are grey, the earth is scorched, and there is mud and slurry everywhere. As many of the men cast their eyes over this foreboding landscape, many of them question exactly what they are fighting for.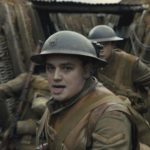 The film really focuses on fatigue. By April 1917, there was still eighteen months of war to go – and many regiments had been engaged since July 1914. Like the 'Wayfaring Stranger' in the song, they want to go home. Conditions are terrible and relief is non-existent. Many are 'shell-shocked', as it was known, and yet are expected to dutifully carry on.
Dean-Charles Chapman and George Mackay give excellent central performances. Chapman's Blake seems more determined and invested in their quest, whilst Mackay's Schofield has horror etched all over his face. The pair are a nice contrast, and are clearly dedicated to supporting each other. Carrying the entire film, they are supported by cameos from the likes of Fleabag's Andrew Scott, Colin Firth and Benedict Cumberbatch.
But this isn't a story about famous faces. This is very much a tribute to ordinary, everyday acts of courage.
1917 has all of the explosive action of a war film, but it is not the main focus of the film. This is a story of men on the frontline who aren't sure what they're fighting for; of quiet bravery; of extreme sacrifice.
Mendes has delivered a truly powerful piece of cinema – a great start to 2020's viewing.
Latest posts by Mary Palmer
(see all)