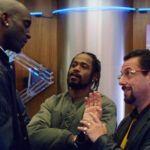 The Safdie Brothers' Uncut Gems doesn't feel so much like a movie, at times, but rather an unbridled assault on the senses. It's loud; it's chaotic; it's frustrating. The jewellery store setting provides unflattering neon lighting, as it to compound the idea that you're not really supposed to settle in and relax.
Opening with a serious mining accident in Ethiopia, the camera then takes a trippy glide through a black opal – the titular stone – a glittering myriad of colour and light, which somehow ends up taking us through Howard Ratner's (Adam Sandler) colonoscopy as he is cleared of cancer.
Ratner is a jeweller in New York's Diamond District, selling large, jewel encrusted Furbies (yes, you read that right) to the stars. He's also a gambling addict – and we're not talking the odd $25 bet – who has managed to entangle himself with all the wrong people.
This is a role that Sandler was surely born to play; obnoxious, brash, making the wrong jokes to the wrong people. It's like an homage to his recent career. And yet, here, the Safdie Brothers pull an unbelievable performance out of him. He seems hell-bent on pressing the self-destruct button. You can tell he is relishing every line; his eyes glinting with greed throughout. His character has luminous veneers which compete with his diamond earrings and rings for attention.
At times, Uncut Gems, reminded me of Vittorio Di Sica's The Bicycle Thieves in terms of how frustrating it was. Every time you thought Howard was sorting himself out, he'd go and do something stupid again. Thousands of dollars worth of stupid. At the heart of this film – and ready to solve all of his money worries – is not a bike, but an uncut black opal, still enmeshed in stone. It's hinted that it holds mystical powers; ones that allow Howard to place sacks worth of cash on basketball bets.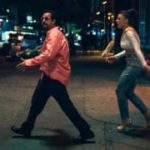 Speaking truthfully, I found the film really hard to get into at first. The opening thirty to forty-five minutes saw characters consistently speak over each other (each person louder than the last) to such an extent that I found it hard to (a) keep track of what was going on or (b) care. On reflection, it's this exact chaos that the Safdie Brothers want you to feel. Howard's personal life and his addictions are spiralling out of control – and these things don't tend to come quietly.
Even Howard's shirts seemed to get louder – from a brown Gucci at the beginning to a lurid salmon pink towards the end – the more frenetic his gambling and his personal life got.
With a supporting cast including NBA star Kevin Garnett and Canadian singer The Weeknd, Uncut Gems is every bit as madcap and unexpected as its main character. The build that the Safdie Brothers create – leading up to an equal parts electric and shocking final fifteen minutes – is like nothing else you'll have experienced in a film. And perhaps that's because the whole film is something you experience, rather than simply watch.
It's sensory overload from beginning to end – and I can understand why there was a bit of an outcry that several awards bodies overlooked Sandler's performance here.
If you're looking for an introduction to the Safdie Brothers, 2017's Good Time might be a gentler way of getting to know their work. But Uncut Gems certainly pushes the boundaries of what films should look and sound like – whether you enjoy it or not.
Uncut Gems is now streaming on Netflix UK.
Latest posts by Mary Palmer
(see all)