Fred Rogers is as American as apple pie. Growing up in the UK, his presence is more prevalent through American pop culture. My first introduction to the character was in Joe Dante's 1989 comedy, The Burbs. Tom Hanks' character wakes from an awful nightmare where his neighbours are trying to kill him and we hear the cheery tune of "It's a Beautiful Day in the Neighborhood." It seems quite fitting, to me anyway, that Hanks would play Mister Rodgers in Marielle Heller's A Beautiful Day in the Neighborhood.

Meet Lloyd Vogel (Matthew Rhys), an award winning journalist for Esquire magazine. Having developed a reputation due to his cynical writing style, he is offered the chance to interview children's TV presenter Fred Rogers (Tom Hanks). Lloyd is convinced Rogers' nice guy act it just that and looks to expose it and show the real man behind the famous red sweater. Little does he know, the bond he forms will change his own life in a way he didn't dream of. 
It's easy to be cynical when entering Mister Rogers' neighbourhood as Lloyd does, and for audiences it's easy to be weary of Heller's movie. Will a scandal be revealed, what controversy lurks beneath the surface? Well, none. That's not the goal, instead we're presented with a wonderfully sweet drama that many can relate to. The strength is in the relationships formed and one that manages to avoid similar clichés due to the nature of Lloyd's unlikely mentor. Mister Rogers unrelenting selfless and capacity for empathy makes for an alluring character.
Hanks is brilliant as ever, evoking a grandfatherly charm that draws you to him. Portraying a mythical superhero like character, there's also something inherently vulnerable about him. There may not be any dirt to dig but behind the façade there is a human being. One that is genuine but only human all the same and one who is in need of the same love that he gives.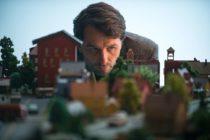 Heller mixes the vibrant colours and model sets of Rogers' world with the real one. The whole movie is framed like an episode of the TV show, complete with morality lessons. Except this isn't a kids movie, and the messages are as important to adults as they are to children. Life if difficult but it's worth working on.
A Beautiful Day in the Neighborhood isn't a biopic of Fred Rogers. It's a love letter to the legacy of a man who gave so many people joy. Inspired by the Esquire article "Can You Say … Hero?" by Tom Junod, Heller shows that not all heroes wear capes. They can, however, influence a person's life by just being nice. The film isn't an exploration of the human soul nor a $200 million CGI action opus. But it is a nice film and sometimes that's just what we need. 
Latest posts by Thomas Simpson
(see all)