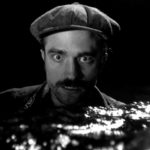 Director Robert Eggers sure knows how to play around with light and shade – quite literally, in his latest feature film, The Lighthouse. In the similar manner to his directorial debut, The VVitch, he fills his films with moments that make you nervous laugh; make you gasp; make you feel like something insidious has got under your skin.
Drenched in black and white – and looking like something straight out of German expressionist cinema – the film centres around two men, tasked with maintaining a lighthouse for a four week shift. Thomas Wake (Willem Dafoe) is a bearded, salty sea-dog; complete with wooden leg, a taste for vodka and a love of lively shanties. Ephraim (Robert Pattinson) is more guarded; reserved; unused to the work and something of a drifter.
Like so many films, this odd couple are forced together. But that's where the cinema clichés stop and other 'opposites' are brought into focus. The Lighthouse feels so dreamlike at times – like you're stepping into a classical painting – and contrasts this with harsh weather and unforgiving shots of the vertiginous lighthouse staircase. These harsh contrasts place you in a state of imbalance throughout. The seemingly endless lashings of rain, coupled with shots of sticky, unforgiving mud and a thankless physical workload allows an overall sense of misery to creep in.
Dafoe and Pattinson give utterly compelling performances. Pattison, in particular, has achieved real success since he stopped being a sparkly vampire for a living. At first, Dafoe's character is irritating and obnoxious, whilst Pattinson barely speaks a word he doesn't have to. These characters change – bonding and brawling – throughout their stay together. The scenes over the dinner table, where the camera flickers from face to face, are stunning to watch. Their dialogue is complex at times, but again, like expressionist cinema, so much is conveyed in the widening of the eyes or the pursing of the lips.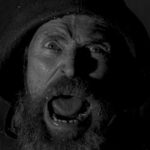 Eggers wants you to feel the claustrophobia – there are rumours of 'wickies' going mad during their secondment and he wants to take you with them. There are some really beautiful shots of both Pattinson and Dafoe reacting to whatever special hold the light seems to have over them. There are a couple of split-second shots of sea creatures that will make you question whether or not you saw something correctly. The foghorn wail that permeates the otherwise bare soundtrack will stay in your head for days.
It's not a conventional horror (no jump scares here) but rather a film that chooses to bury its way into your mind; filling your pores with sea salt and mud.
And, since there is no real reliable narrator here, there is so much to unpick: What secrets are the two men keeping? Is it an allegory of the Prometheus myth? Are Tom and Ephraim the same person? Whose version of events are we supposed to believe? What's in that damn light that's making these wickies go mad? And, let's be honest, is that really what a mermaid's vagina would look like?
As a follow up to the haunting The VVitch, The Lighthouse is a truly beautiful piece of cinema that will never quite allow you to get to grips with what exactly is happening.
And, as a fan of German expressionist cinema, it made me so damn excited to see what Eggers is going to pull out the bag for his re-imagining of Nosferatu. I'm already shivering.
Latest posts by Mary Palmer
(see all)