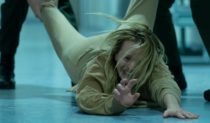 Coming soon is the latest movie version of the classic tale of The Invisible man Elisabeth Moss stars in a terrifying modern tale of obsession inspired by Universal's classic monster character. Trapped in a violent, controlling relationship with a wealthy and brilliant scientist, Cecilia Kass (Moss) escapes in the dead of night and disappears into hiding, aided by her sister, their childhood friend (Aldis Hodge) and his teenage daughter (Storm Reid). But when Cecilia's abusive ex (Oliver Jackson-Cohen) commits suicide and leaves her a generous portion of his vast fortune, Cecilia suspects his death was a hoax. As a series of eerie coincidences turns lethal, threatening the lives of those she loves, Cecilia's sanity begins to unravel as she desperately tries to prove that she is being hunted by someone nobody can see.
The film is produced by Jason Blum, who is regarded as being the current master of modern horror films through his Blumhouse productions imprint. In the director's chair is Leigh Whannell who also wrote the screenplay and co-produced for the movie. Whannel is best known as one of the conceivers of the Saw franchise and recently directed the very impressive Upgrade and Insidious:Chapter 3.
The Invisible Man is in cinemas on the 28th of February.
Latest posts by
John McArthur
(see all)