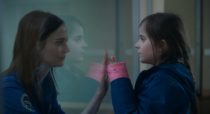 Proxima will open this year's Glasgow Film Festival on the 26th February, premiering in the UK following on from its Toronto, Macao and San Sebastian festival play. Eva Green gives a career-best performance in this epic and emotionally charged new drama from acclaimed director Alice Winocour. The story follows Sarah (Green), a French astronaut training at the European Space Agency in Cologne. The only woman in the arduous training programme, she has been chosen to be part of the crew of a year-long space mission called 'Proxima'. Putting enormous strain on her relationship with her seven-year-old daughter Stella (Zélie Boulant), the training begins to take its toll on them both as the life-changing launch looms ever closer.
Featuring stunning performances from the entire cast, including Matt Dillon, Sandra Hüller, Aleksey Fateev and newcomer Zélie Boulant, Winocour's new film is a stunning cinematic experience which will take audiences on a gripping, emotional and life-affirming journey, and boasts a stirring score from world-renowned composer and musician Ryuichi Sakamoto.
Alice Winocour's first feature film, Augustine, played in the Semaine de la Critique at Cannes and was nominated for two César awards in France. She went on to direct the thriller Disorder (2015) starring  Matthias Schoenaerts and Diane Kruger, which she returned to Cannes with. 2015 also saw Mustang, the Oscar-nominated drama that she co-wrote with Deniz Gamze Ergüven, released to wide acclaim. Proxima is her third feature film.
Proxima will be in cinemas from Friday 8th May.
Latest posts by
John McArthur
(see all)