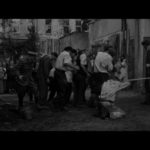 The opening scene – and it does seem to be one, continuous take – of Jurgis Matulevičius' Isaac will leave your heart in your throat. In the midst of World War Two, local Nazi supporters are humiliating and torturing some of the Jewish population in what would come to be known as the Leitukis Garage Massacre. Shot in smoky black and white, there is a sense of all-pervading chaos. The camera swirls between shots of elderly men, beaten, being forced to kneel before squealing pigs and the vitriolic "white armbands" orchestrating the situation.
It is hard to watch; another aspect of World War Two being brought to the big screen to serve as a reminder. Not least of the ping-pong like experience Lithuania was subjected to under the push and pull of both Nazi and Soviet control.
But, as it turns out, what we see in the opening minutes is the set of a film, directed by Gediminas Gutauskus (Dainius Gavenonis), a Lithuanian director who has recently returned home from twenty years in the States. Why is he home? And why is he choosing to stir up history with his new movie?
Flitting between the 1960s, the 1940s and shots of Gediminas' historical epic, this is not a film you can switch off and relax to. You really need to be paying attention – not least because there are so man visual metaphors and flashbacks – and work at your understanding. I can only imagine that Antanas Škėma's source novel, on which the film is based, is incredibly dense.
Gedminias returns home to a heroes welcome – quite literally, garlands of flowers, girls in national dress with trays of local bread and booze – as he sets upon his latest film project. Having returned from capitalist America, his every word is being listened to; his every move spied upon. Even his alleged best friend, Andrius (Aleksas Kazanavicius) is willing to pass on information to the local police – how does the director seem to know so much about this historical black spot?
A real rivalry is set up between the pair – Andrius seems old before his time and is bitter that his flashy director friend seems to enjoy a big house, parties, women and good suits. To add to the mix, Gediminias appears to have his sights on Elena (Severija Janušauskaitė), Andrius' wife. There is clearly something for Andrius to gain by keeping Gediminias firmly in the firing line.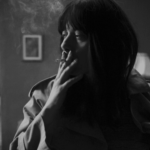 However, the film is peppered with brutal flashbacks of the garage massacre, which hint that Andrius is doing all he can to distract from his own past. The titular character, Izaokas in Lithuanian, barely appears for just a few seconds within that harrowing opening sequence. A young Jew, he is brutally murdered by a man who claims to be his neighbour. With one swift strike of a shovel, he is gone. But who is the murderer? And why is Andrius haunted by this knowledge?
Matulevičius' film definitely does not shy away from the harsh realities of life both during the war and in its post-Soviet reality. It leans into themes of trust, friendship, courage and survival. Whilst there are clear notions of people committing atrocities, there are no real 'good guys' to counter these images. Everyone is just doing what they can to get on with life; the lines of morality are increasingly fuzzy. And, if nothing else, it forces you to pay attention to decades of widespread chaos and murder under two very different – and yet, similar – political regimes.
There are a few unanswered questions left by the film and, whilst this is a little frustrating, I guess it leaves everything open to interpretation.
The three lead characters – Gedeminius, Andrius and Elena – are all brilliantly realised by the actors. They are strong, nuanced performances; as conflicted as the sociopolitical circumstances they now find themselves in. Everything about their lives seems bittersweet – there can be no joy but it is tinged by past or present sadness. The black and white sections, in particular, seem to highlight their inabilities to move on with their lives; they are persistently stuck in shadow. Martynas Nedzinskas also gives an excellent performance as the desperate, frustrated policeman, Kazimieras. 
Isaac is a film that wants you to sit up and pay attention. This isn't necessarily about entertainment – although it is beautifully shot and acted – this is about social commentary and injustices everywhere.
Isaac is up for the Audience Award at the Glasgow Film Festival 2020 and features in the Pioneer festival strand.
Latest posts by Mary Palmer
(see all)