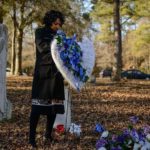 In August 2014, Lennon Lacy was found hanging from a swingset in Bladenboro, North Carolina. After seemingly little investigative work, the police ruled that his death was a suicide. Lennon's mother, Claudia, and his brother, Pierre, remain convinced that he was the victim of a race hate crime that was thought to be buried in America's past: A lynching.
Jacqueline Olive's documentary, which premiered last year at the Sundance Film Festival, weaves the story of the Lacy family's grief with history and present-day racial tensions. America can't quite seem to shake off the last of its racist past – and it's all out on display within the 90 minute run time of this film. From historical reenactments to 50 cent postcards; from right wing protests to whispers amongst communities, Always in Season looks at the act of lynching throughout history and why America (in particular, the South) isn't quite turn the page on this chapter yet.
The documentary opens with narrative from Claudia; her last conversation with her son was over bringing his laundry inside from the line. She describes him as a happy, aspirational student – focused on his football and with a couple of long-time friends in the local community. His brother insists that his Lennon (despite recently losing an uncle and breaking up with his girlfriend) was not suicidal. He was preparing for a football game that meant a lot to him; he was driven and eager, making plans for the future. Coupled with the seemingly regular desecration of Lennon's grave, mother and son are convinced that he was the victim of a lynching.
Olive uses this story as a jumping off point to explore many different elements of the history of lynching. Sherrilyn Ifill, a lawyer with the NAACP, describes lynching as a "message crime" and relates how huge crowds would gather to either participate or spectate. Often, picture postcards of the swinging bodies were sold in shops. Danny Glover gently narrates the infamous 1934 lynching of Claude Neal, as well as the shocking 1946 Moore's Ford Bridge crime. The latter of these two incidents is also subject to an annual reenactment, which takes up a rather large chunk of the documentary, as it stirs up a lot of feelings within the local community.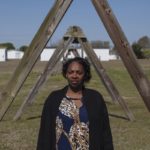 The reenactments bring a lot of tears and shock from many Black residents, whilst many white residents don't want to take on the roles of the racist Klan members, either because they don't want to hurl racist insults or because they don't want a reminder of the South's murky history. Many of those interviewed don't wish to speak about the past – either through fear or shame – and believe that old demons should be laid to rest. But, argues Claudia Lacy, how can it be the past when her son, she believes, is also a victim?
There is particular evidence of old wounds when it is explained that many Klan members were serving police officers, with the generations below them following suit. Could that explain why Lennon Lacy's body was kept away from his family for three days because the local station was "shut for the weekend"? Could that explain why the coroner's office insists Lacy had defensive wounds on his arms but had their camera snatched out of their hands whilst photographing his body? Could it also explain why the local newspaper "doesn't have resource" to run an investigative report? Are the Lacy family the victims of a cover up?
Too late on in the 90 minutes, a whole other chapter of Lennon's life is introduced; namely his relationship with a 32 year old drug addict whilst he was 17. His 'girlfriend' was living in a trailer with a man who liked to brandish the N word around and who quickly disappeared after the body was found. But it feels like the documentary should have spent more time on this – that it might lead somewhere within the case.
One thing is for sure, America is not able to put its history to bed. Not least because there are still scenes of white supremacists screaming their vitriol and marching throughout several states (and not just in the South). The Lacy family, one way or another, deserve to know the truth. I'm just not sure how they'll get it in a town full of whispers and shame.
Always in Season is playing at the Glasgow Film Festival 2020 within the Stranger Than Fiction strand.
Latest posts by Mary Palmer
(see all)