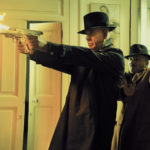 Igor Tuveri has adapted his own graphic novel, Cinque e il numero perfetto, to bring to the big screen a Mafia drama, set in 1970s Naples. Watching it felt like Sam Peckinpah meets film noir meets Wes Anderson meets Quentin Tarantino. And, believe me when I say, this is very much a good thing.
Having caught some promotional stills of the film before viewing, I was worried that it would be style over substance. But Tuveri delivers both luscious visuals and a gripping plot, peppered with deliciously dark humour throughout. Sure, it's a Mafia movie with a revenge plot, but it is unlike any you'll have seen before.
The film centres around Peppino Lo Cicero (Toni Servillo) who partners up with his old crime buddy, Toto (Carlo Buccirosso) in order to get revenge for the murderous acts of the diminutive Don Guarino (Mimmo Borelli). The friends are well into their seventies, but every bit as agile and quick-witted as the Don's henchman as the battle across a rain-soaked Naples in order to stay alive.
The film is separated into five chapters, each of which is accompanied by a hyper-stylised animation that hints at what might lie ahead. The violence in the film is tremendous; spurt of bright red blood erupt from the mouths of gun shot victims and splash across the Neopolitan cobbles. The pencil thin moustaches, the close ups of piping hot espresso and rich leather shoes really add to the overall aesthetics.
There are several really beautiful shots of Peppino, resplendent in trilby and raincoat, skulking through the shadows and mist. The ridiculously over the top beak he has been given even manages to mimic the handle of the gun he buys his son. Essentially, this is a gorgeous film to look at. Like Tarantino, there is a clear love of cinema – and pulpy visuals – here.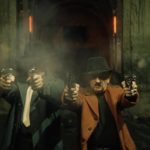 In particular, there is a shoot out in which Peppino and Toto enact some really clever fight choreography, spinning around at all angles, whilst an old stone gate is lit up by gunshots. Another gun fight takes place in a pitch black hallway, lit up only when each Smith and Wesson crackles. I could watch that scene over and over again.
And it's not just about how the film looks. Toni Servillo delivers all his lines straight, making his devilishly dry one liners even more hilarious. One standout was the description of how he met his wife – "I'll never forget that day. I had to kill all of her family to get to her," he reminisces with a smile. Carlo Buccirossi is equally deadpan, with a few hyperbolic outbursts used to great effect.
The supporting cast, featuring the likes of Valeria Golino as Peppino's love interest, Rita, are a little underdeveloped. But to be honest, it's so hard to take your eyes of Servillo that it almost doesn't matter. The chapter structure helps the film keeps pace, particularly as it romps towards its conclusion. Just because the cast are in their seventies, doesn't mean the pacing isn't vigorous and exciting.
Whilst it isn't fair to say that 5 is the Perfect Number is a romanticised version of the mob,  as there is plenty of grief, desperation and violence on display, but the obvious humour and the stylish visuals make it seem more like a loving pastiche. The over-the-top-ness of the film, from the costumes to the shoot outs, are pure spectacle.
I thoroughly enjoyed this film – it's one of my festival highlights so far – and can easily see why the curation team think this might become a cult classic.
5 is the Perfect Number is showing as part of the Glasgow Film Festival, within the Future Cult strand.
Latest posts by Mary Palmer
(see all)