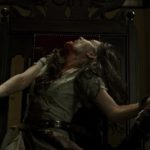 The opening scene of Damien LeVeck's The Cleansing Hour has all the hallmarks of a good exorcism horror. There's flickering lights; sulphurous reactions to holy water; contorted bodies; and a rich, deep demon voice. Some poor soul thrashes about on a gurney whilst the brave, swaggering Fr Max (Ryan Guzman) attempts to defeat Satan. And then, all of a sudden, you realise that this is nothing more than a few props and some special effects – Fr Max hosts "The Cleansing Hour", which streams across the internet every week.
From the offset, it's established that he is a charlatan, more interested in selling "official Vatican" merch and getting that all important blue tick on his social media accounts. He's not even really a priest, if his bar to bedroom antics are anything to go by. But, along with his downtrodden, loyal friend Drew (Kyle Gallner), they have this particular corner of the internet interested in their shenanigans.
So, with one self-obsessed "priest" and one increasingly frustrated producer, "The Cleansing Hour" live stream is in need of a real ratings boost, before these childhood friends go their separate ways. Bring in an *actual* demon (housing itself inside Drew's fiancee, Lane, played by Alix Angelis) that won't bow down to their staged bravado and made up Latin prayers.
The acting, at times, is a little B movie, but the script is so rich with both humour and horror that it's forgivable. The scares always appear before the film allows itself to get too corny. The audience at Fright Fest were really lapping up the jokes peppered throughout the script and there were lots of big whoops and cheers (as well as those all important jump scares, which are used to great effect). The body horror effects are really well executed too – there are fingers being bitten off and burnt skin getting stuck everywhere it shouldn't be. I love that traditional, hand-made kind of action.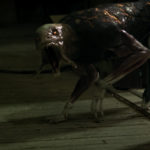 Given that the vast majority of the film is made up of this live stream gone wrong, there's a lot of intensity between the three leads and they definitely carry the film really well – even if the plot does seem to go a bit wild at times. Ryan Guzman is excellent as the self-absorbed, vain Fr Max who really has to come to terms with what he's become. Alix Angelis, too, puts in a great physical performance as she battles with whatever demon has taken hold of her.
The way LeVeck amps up the tension through till when the feed initially goes dead is absolutely insane. He starts at 11 and works his way up from there. There were some real "I can't watch" type of moments (the stand out being when boom operator, Chris, starts hacking at imaginary demons). And not because they were particularly gruesome – more shocking and tense.
The film is based on LeVeck's 2016 short which has the same name and stars Heather Morris of Glee fame. He has re-written and eked out a 94 minute run time from a really simple premise which mixes the found-footage genre with classic horror tropes meets a modern live stream twist. But I think it absolutely works. The ending raised a couple of laughs – but I wasn't sure if the audience found it twee or were simply releasing some of the nerves they had been building up.
I can see The Cleansing Hour picking up something of a cult following on the festival circuit or on the Shudder streaming service. Even if you're not necessarily a horror fan, there's plenty of other elements in this movie (namely humour) to keep you entertained.
The Cleansing Hour screened as part of FrightFest Glasgow.
Latest posts by Mary Palmer
(see all)