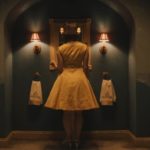 Director Ryan Spindell appeared at Fright Fest on Saturday night to chat to the eager, hyped up horror fans about his feature film. By all accounts, it has been years in the making and – what was clear from both the film and Spindell himself – was just how much he loves horror movies. There are so many lovely flourishes and knowing nods that (weirdly) I couldn't help but smile. The Mortuary Collection is a genre anthology, and it delivers on absolutely every story; every finale.
Holding it all together is mortician and funeral director, Montgomery Dark (played with real relish by Clancy Brown – my god, I could listen to his voice all day). Having just completed another service, for a young boy, he is accosted by Sam (Caitlin Custer) who claims she's responding to the "Help Wanted" sign hanging outside. She's sassy and nosy – keen to find out all the devilish details of those who have passed through the parlour before her. It's here the anthology starts, working it's way from the 1950s through the 70s and 80s, as Montgomery recalls how his previous clients met their maker.
He starts off by recalling the thieving party guest who allows her nose to get the better of her; then moves on to the reckless frat boy who can't wait to chalk up another notch on his bedpost; then, on a sadder note, a husband who cannot cope with his wives illness; before finally embarking on "The Babysitter Killers".
The soundtrack, from the Mondo Boys, is excellent throughout. You could swear you already know the songs – there is clear influences from the likes of Bowie, Hendrix and The Rolling Stones. The music is catchy and upbeat – like the brightly coloured costumes a lot of the characters wear – in direct contrast to the unfolding action.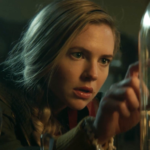 Usually, within an anthology, you'll find one section that maybe just didn't grab you as much as the others. Spindell absolutely delivers on all fronts – there's not a single part of this movie that will let you down. What is clear throughout is Spindell's love of the genre – from body horror to classic tropes to iconic movie villains, everything weaves together seamlessly. There is elements of humour, satire and one particular incident of explosive body horror that had every man in the GFT cross his legs and wince.
The dynamic between Montgomery Dark and Sam is equally enjoyable. He is this towering, shadowy figure who seems to strike fear in the hearts of those who see him but she is game for his act. They butt heads – often with rapid fire exchanges of witty one liners – and there is a real chemistry there. Both actors are truly enjoyable to watch as they seek to tie all of the stories together.
Most importantly, the anthology idea works. It doesn't feel like a bunch of separate movies all strung together; the narrative flows and, thanks to a couple of crossover characters, weaves together this idea of a small town being plagued by mysterious goings on for decades. It's sharp, it's slick and, at times, it's scary.
What I particularly loved about seeing The Mortuary Collection on the big screen was the audience reactions. People were laughing out loud, cheering, wincing, clapping and just generally enjoying themselves. To me, that's a clear sign that this film deserves a much bigger audience.
The Mortuary Collection screened as part of Fright Fest Glasgow.
Latest posts by Mary Palmer
(see all)