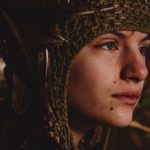 There are a plethora of films – everything from The Village to Leave No Trace – about families cutting themselves off from modern society in order to establish a new way of life in the middle of nowhere. They are on the fringes, quite literally, and usually have strong feelings about the morality levels of the present era in comparison to their own.
Director Daniel Borgman casts the quick tempered Jens (Peter Plauborg) and his family to the edges of the forest, living off the land and memorising all their is to know about the environment and natural remedies. The film opens with him searching, frantically, for his daughter Liv. He alleges she has drowned. As it turns out, she's still very much alive – but Jens has no desire for the modern world to pollute her pure, organic upbringing.
Jens quizzes Liv (played by Vivelill Søgaard Holm) about the flowers she finds, the animals they must catch and eat and ancient methods of homeopathy and preservation. He allows her to play and forage, so long as she remains away from the nearest town. There are lots of close ups of tall grasses, trees swaying in the wind and rabbits gutted and skinned. Despite this seemingly sparse way of living, Liv's mother, Else (The Killing's Sofie Gråbøl) is bed bound, owing to both pregnancy and morbid obesity and must be washed and fed regularly.
The family – for whatever reason – have chosen to cut themselves off from society and their extended family, with Jens taking every opportunity to remind Liv not to stray beyond the forest confines; hinting that the people out there are not like them.
For me, this film was an extreme case of style over substance. As I said in the intro, this type of film has been done several times over (usually with some sort of horror element) and Resin didn't bring anything new to the table. There is no "slow burn" – there is just nothing to keep you engaged. There is a distinct lack of explanation around several elements of the families lifestyle, which is perhaps explained in Ane Riel's book from which it is adapted, but isn't on screen.
There are some truly self-indulgent shots – such as time lapses of rabbit corpses being devoured by maggots – and a couple of scenes thrown in for shock value, but I really struggled to maintain interest. Liv, as a central character who we are presumably supposed to feel sorry for, was incredibly aloof and two dimensional. We don't know enough about the life she left behind or even how she feels about her upbringing.
Jens, as a character, is a horror. He is a brute; no better than a beast in a field. He has no self-control (which is perhaps why his wife is both pregnant and so large she's unable to walk) and, more than once, I got a weird vibe as he drew Liv close or cast his eye over her. Peter Plauborg plays the character well but he was so odious I had no desire to see more of him. He is the villain of the piece, but not a particularly well rounded one.
I really wanted to like this film as I am a fan of Scandi thrillers but the pacing was too slow and there wasn't enough explanation. At times, it felt like a series of nature shots pulled together and none of the characters felt empathetic enough to engage my attention.
Resin pushes explorations of paranoia and paternal instinct but leaves you feeling a little dirty and in need of the comfort of civilised society.
Resin is showing at the Glasgow Film Festival 2020, as part of the Pioneer strand.
Latest posts by Mary Palmer
(see all)