Controversy creates cash. The discourse around Joker last year did it no harm as it became the most talked about movie of the year before anyone had even seen it. There was another film that was arguable more controversial. One that was shelved in the wake of the El Paso mass shootings, one that even raised the ire of Donald Trump so much he felt the need to tweet about it (although it must be noted he didn't mention it by name, it was obvious). Now, six months after it was initially to be released, Craig Zobel's The Hunt finally sees the light of day. Is it so controversial that it could degrade minds? No. Was it worth the wait? Yes.

The idea of humans hunting others for sport is nothing new. The Hunt itself is based on Richard Cornell's short story, The Most Dangerous Game. First published in 1924 it has been adapted numerous times since. Here, Zobel, along with writers Nick Cuse and Damon Lindelof, give its message a contemporary upgrade by sprinkling it with the modern political zeitgeist. A group of strangers wake up to find that they are being hunted by wealthy liberals. They've no idea why other than they appear to share different views deemed deplorable by their hunters. With the odds stacked against them, the prey mount a fightback thanks to Crystal (Betty Gillpin), one of the hunted who isn't going to take being cancelled easily.
The Hunt will offend and that is a good thing. That it will proves its point. Unfortunately, as last year showed, it will offend people that haven't seen it and it does need to be seen. The satire is far from subtle. The filmmakers are as blunt as they are brazen about the themes they target in their crosshairs and have little hesitation in pulling the trigger. And that's why it works. They aren't afraid to step on the toes of either side and although the film will be wide open to misinterpretation, much like Joker, its aim is true.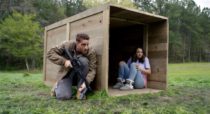 The plot is a fun thriller that revels in its over the top violence and comical performances, most notably Hilary Swank, Glenn Howerton and Usman Ally. It's farcical in its presentation which makes it more accessible and the themes easily absorbable. It is to be laughed at while enforcing its underlying message and the perils of social media. It's quick paced with many gags and bullets flying from the screen which leaves little time to digest what's just happened before we're onto the next scene. Dull, it is not. 
A thrill packed theme park attraction that invites outrage to prove its point. The Hunt holds up a mirror to the audience and asks them what they see looking back? It doesn't ask for you to agree or disagree, more are you happy with what's being reflected back. It's more likely to solidify opinion than change it, still, if you're not interested in what its saying, it still offers some popcorn munching entertainment. Watch it or don't but give it a chance before deciding to be angry with it. 
Latest posts by Thomas Simpson
(see all)