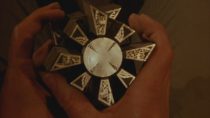 The Hellraiser franchise has come a long way since its humble beginnings as a low budget British horror by a first-time director. Adapted from his own novella, The Hellbound Heart, Clive Barker's Hellraiser was released in 1987 and has spawned nine films since. The quality of the sequels has ranged from schlocky fun to what the hell were they thinking?
Talk of a remake has been on the cards so long that the idea had all but been confined to developmental hell. It turns out horror franchises are like buses. With news last year that David Goyer had written a script for the film, HBO have announced a TV series based around the mythology.

While the new film and series will be unconnected, the idea of an episodic arc is something that would allow the story to be fleshed out and really cut deep into Barker's world. With HBO at the helm, it's safe to say that the show will not be watered down in any way.
Fans of the iconic villain can breathe easy knowing that Pinhead will return. As reported by Deadline, "the centerpiece remains Pinhead, the pin cushion-headed merciless leader of the Cenobites."
This is welcome news considering how Pinhead became a background character for most of the sequels, shoe horned in to justify a spec script becoming a Hellraiser movie. The big question on everyone's lips now is, will Doug Bradley return? The actor did not reprise the role in Hellraiser Revelations or Judgment with Stephan Smith Collins and Paul T. Taylor both taking over the role. It's been fifteen years since Bradley had nails hammered into his skull, whether he returns to portray the Hell Priest in either the movie or show remains to be seen, however it would be sad if he didn't have involvement with the latter.
With David Gordon Green (Halloween) on board to direct the pilot and further episodes and Michael Dougherty (Krampus) on writing duties alongside Mark Verheiden (Swamp Thing), the project looks to be in safe hands. Let's hope they have such sights to show us.
Source: Deadline
Latest posts by Thomas Simpson
(see all)