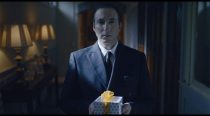 Due to the ongoing pandemic, a number of film festivals have had to think of different ways to present their works this year. The Brooklyn Film Festival has decided to move all of its content online. The documentaries, shorts and features will all be available to stream for free from their site for the duration of the festival from the 29th of May to the 7th of June. There will be one hundred and forty films on show, one of which is the short film Mr.Sam.
The film is a thirty minute short that focusses on a mortician with a bit of a secret. Today is a big day for Mr. Sam. He is going to reveal to his mother that he's finally found the love of his life. Mr. Sam has many secrets; but the biggest one he's managed to keep hidden from everyone is discovered when his best friend Sandra arrives earlier than expected and catches him red-handed. Luckily for Sam, all may not be lost. Sandra has a secret of her own, which locks the two into a twisted pact. Life, however, is not that simple. Sam nearly breaks coming face to face with Sandra's demon with deadly consequences. Sam must carry the burden for both and for now, secrets remain buried. But for how long?
The film is directed by Zeus Kontoyanis. He has worked as a writer and producer under Producer Scott Rudin on films such as Exit Through The Gift Shop, The Social Network and True Grit. The film stars Christopher Piccione, Catherine Bradley, Whitney Harris, Matt Hopkins, Steve Blanchard, Cathy Finlay, Jo Vetter, Nastasha Strang and Julien Prevost.
Latest posts by
John McArthur
(see all)