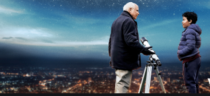 Mortality is a topic that is a staple for movies. It has always been a powerful topic that allows for rich and rewarding storytelling. What can be more forceful than looking back at a life lived, good or bad? The topic becomes more relevant with each passing year. The population within the developed world is gradually is statistically getting older and so, stories such as Astronaut have greater resonance for a an ever-growing number of people.
Angus Stewart (Richard Dreyfuss) is a man who is coming to terms with his mortality. Having lost his wife to illness he is slowly deteriorating and his medical issues mean that he cannot look after himself any longer. Living with his daughter and her family was never going to be a permanent solution even though Angus has a strong bond with his daughter and his grandson. A civil engineer by trade, he has had a lifelong love affair with space. When a competition is announced offering a member of the public a seat on the first commercial space flight it seems like the last opportunity for Angus to fulfill his ambition. Submitting the form with slightly misleading information regarding his age and medical status gets him to the final selection process.
This is not a film that will challenge you. That is not a criticism, by the way, just a statement of fact. It is a gentle, slow-paced drama that focuses on a man who is trying to stay positive while the life he had starts to fade. Richard Dreyfuss is excellent in the main role. He brings the character to the screen in a steady and wholly sympathetic way. There is nothing rushed or over the top in his portrayal. Despite his obvious issues, Angus is a level headed man who is not quick to anger. Frustration, yes but there is never a call for him to vent to any of the other characters. Dreyfuss exudes calmness in every frame of the movie.
There is a quiet confidence to him that comes out in the way he deals with everything that is going on. A running thread in the story involves his late wife and her unspoken illness before her death. She was in a vulnerable place that resulted in her running up debts that were hidden from Angus. After her death, he found he was the owner of a donkey sanctuary that has drained their savings and ultimately meant that Angus has to sell his house. Rather than being a source of frustration, the incident is brushed off every time it is mentioned. The donkeys then play a part in the story towards the end which is a nice touch.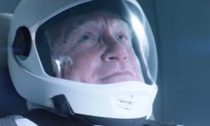 It was nice that the film didn't focus on regrets. Angus has had a full life. He is an excellent engineer and has, in his own words, lived a life. It goes out of its way to show that despite having an obsession with reaching for the stars, there is never a deep sense of loss for him. What the story does touch on is the value of people and how they cannot be judged just by their age or appearance. When Angus is moved into a care home he mixes with a number of different types of people, all of whom have their story to tell. It is telling that Angus strikes up a friendship with a man who apparently can no longer communicate. He is astute enough to see beyond the facade and build up a friendship with the person stuck in a broken body. Their scenes together are rather poignant as there is little need for dialogue between them.
Despite the publicity materials for the film, where Angus is seen wearing an astronaut's flight suit,  there is no time spent in space. That is used as the background to tell the story. It isn't the focus and this may be an issue for some viewers. It is a family drama and makes no apologies for it. The pacing is slow and deliberate and there is an emphasis on the everyday. Being a space nerd allows the audience to spend time with Angus and his grandson as they look at the stars through their telescope. The focus always falls on a comet that is making its way across the night sky. The comet becomes more of a feature as the film progresses. It never seems to move and is symbolic of the way that film takes its time in getting to its finale.
Astronaut is a gentle and really quite absorbing drama that benefits from an excellent central performance. The film is available to buy and rent from all digital platforms.
Latest posts by
John McArthur
(see all)