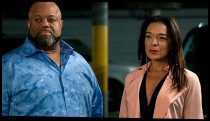 $TACK$ is a film that is very much of its time. With the world still dealing with the global pandemic, the short movie takes a look at a very particular problem associated with everything that is going on. The film is the directorial feature debut from Gerald Webb, who is best known as a producer and actor with over one hundred and fifty credits to his name. While watching the lead up to the Covid-19, Los Angeles Stay at Home mandatory quarantine, Webb quickly penned the screenplay, cast, crewed up and shot $TACK$ all in a 48-hour window just as Los Angeles and our world were all shutting down due to the Coronavirus pandemic.
Set in a neon-lit car park, two local gang members are anxiously awaiting the arrival of their suppliers. Without the re-up they know their businesses in trouble. Tensions are high as they wait, hoping the lateness of the suppliers' arrival is not a bad sign. Just as it looks bleak, A car draws up, the rival Boss gets out the car and the deal is on.
The film uses assumptions and stereotypes to reinforce its message and subvert audience expectations. The conversations and the way the actors present themselves indicate a certain type of drama, especially involving black gang members. The language including certain trigger words leads you t believe that what you are seeing is a tried and tested formula for storytelling. The high production values and quality of actor on-screen just add to the overall feeling. It is a clever and confident debut that pays of superbly due to the meticulous lead-in.  The film, at only seven minutes in length, boasts an atmospheric soundtrack and as a nice surprise a theme song that fits nicely with the drama on screen.
The film debuted on the 12th of May and you can watch it below. The theme song, Dropping Dueces is available on youtube and all music streaming sites.
Latest posts by John McArthur
(see all)