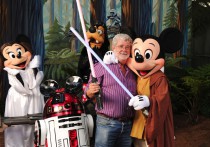 In a dramatic turn of events it has been reported that George Lucas has invoked an eleventh hour clause to scupper the deal to sell Lucas Arts to the Disney Corporation.
Lucas has been reported as having second thoughts regarding the deal ever since he was forced to take part in the photo call with the Disney characters where, against his will, he was forced to almost smile while trying to take the head off of a man size mouse with a unauthorised lightsaber. Privately he has been seething with the direction the new films are taking and feels that the House of Mouse will run the franchise into the ground within fifty years.
Lucas has revealed that the new Star Wars film will in fact be a prequel focusing on the origin story of the real star of The Phantom Menace, Jar Jar Binks. Lucas has lined up hot director Paolo Firl to bring his unique vision to the screen. Paolo's stunning filmography can be found here.
Latest posts by John McArthur
(see all)