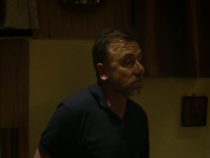 For some reason Tim Roth doesn't seem to get the recognition he deserves as a great actor. It could be down to some of his recent project choices such as the role of Sepp Blatter in the FIFA sponsored movie United Passions or as Prince Ranier in the appalling Grace of Monaco. Now he seems back on track and after his memorable performances in The Haetful Eight and Selma he returns to the screen in the directorial debut from Gabriel Ristein, 600 miles.
Arnulfo Rubio (Kristyan Ferrer) is a gun smuggler for a Mexican Cartlel. His uncle is a top boss and he is seeking to impress him so he can rise within the gang. Along with an accomplice on the US side he buys guns and moves them across the border. He is brought to the attention of ATF agent Hank Harris (Tim Roth). An error of judgment on Hank's part sees Arnulfo being able to kidnap him. Instead of killing him he elects to take him to his cartel bosses as a prize. On the journey Hank and Arnulfo start to form a bond.
This is a slow and methodical movie. For the first twenty minutes we follow Arnulfo as he does his buying and transporting. This introduces the character and explains to the audience just what his motivations are. It feels a bit long in that respect as it could have been achieved with only a few key scenes. What it does is to set the tone and pace for the rest of the film.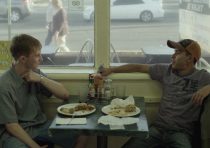 It is at the twenty minute mark that Roth's character makes his entrance. He soon focusses on the Mexican kid and as he ends up as Arnulfo's prisoner we see his character develop. Roth gives a very measured and quiet performance. Hank is a man who lives for his work and doesn't expend any more energy than is absolutely necessary. So what this means is that he appears to be laid back. In fact, he is more than that. He is methodical and not afraid to take action.
As the pair are stuck together on the drive to Mexico, there is a bond forming between them. A couple of incidents see them working together and Arnulfo is clearly torn as to what he should do. It is written all over his face. This inner conflict makes for an interesting and absorbing third act.
Tim Roth is the nominal lead in the film but the performance of Kristyan Ferrer really carries the film. He appears on screen for the vast majority of the movie and his talent really shows. This is a character that the audience can connect and sympathise with.
Overall, an interesting, slow paced two-hander.
Latest posts by
John McArthur
(see all)