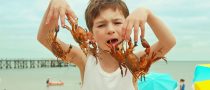 In association with Soda pictures we are offering the chance to win a DVD copy of the French family film Nicolas On Holiday. Based on René Goscinny and artist Jean-Jacques Sempé's beloved character, Nicolas on Holiday is the exciting family adventure follow-up to the 2012 film Petit Nicolas.
It's the end of the school year. The long-awaited holidays have finally arrived. Petit Nicolas (Mathéo Boisselier) and his family head to the sea and move in to the Beau-Rivage Hotel. At the beach, Nicolas wastes little time making new friends, and they set about causing havoc in the holiday resort. He also attracts an admirer in the form of Elizabeth, a little girl who follows him everywhere. Nicolas is really going to enjoy a holiday to remember. Directed by Laurent Tirard, the film also stars Valérie Lemercier and Kad Merad.
To win a copy of the film please fill in the form below with the answer to the following question
What was the name of the 2012 film featuring the same central character?
The competition ends at 23:59 on the 27th of April. Moviescramble will not pass on your details to anyone else. The editor's decision is final.
Nicolas On Holiday is out now on DVD.
Editor-in-Chief at Moviescramble. A Fan of all things cinematic with a love of Film Noir, Sci-Fi and Julia Roberts in Notting Hill. He hopes to grow up some day.
Latest posts by John McArthur (see all)