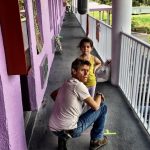 When you think of Florida, what springs to mind? The sunshine state, Cuban fusion, the ubiquitous black ears of a certain Mr. M. Mouse? It's a place that instantly conjures vibrant images of carefree fun and pleasure. But writer / director Sean Baker wants us to know what it feels like when you live in the land of juicy oranges and thrilling theme parks but see nothing of that side.
The Florida Project, which, Disney buffs will know, was the "code name" for Walt Disney World whilst it was under construction, offers the viewer a glimpse of life beyond the cocktails bars of International Drive. Sure, the housing projects may well be colourful and have corny names, but this is no Magic Kingdom. This is a life of immense poverty, suspicion of authority and escapism through drugs.
From the outset, it's clear that Baker establishes the viewer clearly on the side of the motel dwelling families; struggling to make ends meet in the happiest place on earth. In particular, we most often see things through the eyes of three small children; Moonie (Brooklyn Prince), Scooty (Christopher Rivera) and Jancey (Valeria Cotto). They are positively feral – not the typical mini Hollywood sweethearts. They spit on cars, they water balloon unsuspecting tourists, they beg for money and spend a lot of their time directing their potty mouths at authority figures. Seriously, these kids were so wild and constantly in a state of post-ice cream stickiness that I really struggled to form any kind of connection.
That being said, the child actors involved put in some seriously impressive performances. I'm quite sure these kids have no idea what it feels like to have your mother prostitute herself in one room whilst you're locked in another or have the constant threat of eviction and social services looming over your head. Yet, when they cry or look up at their mothers with huge, unblinking Bambi eyes, you could almost swear you were watching a documentary.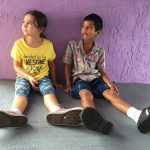 Bria Vinaite stars as Moonie's mum, Halley and the depiction of how she is dragging her kid up is an interesting one. Halley is essentially a truly awful character; the type of person you pray you never end up living next to. She touts perfume to tourists, skips into hotels to get a free breakfast and gets her daughter to take revealing pictures so she can, ahem, look for clients. Again, I really struggled to get to grips with this character as she was just so odious; teaching her daughter to have absolutely no respect for anyone and blowing what little money she had on useless tat. What would have been more interesting, for me, anyway, would be to find out why she found herself living out her days in a squalid motel.
Willem Dafoe – rightly nominated at both the BAFTAs and the Oscars for his performance as the beleaguered motel manager, Bobby – spends most of his time either fighting with his residents or fighting on their behalf. His performance is so nuances; you can feel how frustrated he is when rent isn't being stumped up but, on the other hand, you can see how protective he is of "his" families. It's a quiet, subtle performance and entirely deserving of the awards nods.
The film definitely plays on contrasts. The colouring is so lurid; neon oranges, Barbie pinks and sky blues absolutely flood the screen. It's almost disorientating at times as to how much colour is present. However, the motel rooms are dark and grimy; the walls have been drawn on and the curtains are permanently shut – blocking out that famous Florida sunshine. The heavy tourist traffic on International Drive is contrasted with the desertion and no signs of life at the motel.
It's a film about innocence (or lack of it) and it poses a lot more questions than it answers. The Florida Project is an incredibly challenging watch and one that will upset your preconceptions of the home of the Magic Kingdom.
Editor at Moviescramble. European cinema, grisly thrillers and show stopping musicals are my bag. Classic Hollywood Cinema is comfort food. Spare time is heavily dependent on a lot of pizza and power ballads.
Latest posts by Mary Palmer (see all)