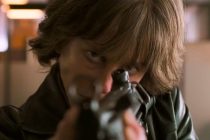 Nicole Kidman excels in Karyn Kusama's sun blasted cop drama, Destroyer. Almost unrecognisable, Kidman adorns a transformation that has drawn parallels to Charlize Theron in Monster to portray Erin Bell, an LAPD detective who is mentally tortured by an undercover operation that ended in tragedy. Estranged from her daughter and looked down on by her colleagues, a John Doe murder victim holds the clues that will lead Bell to find some peace at long last as she set out to extract her revenge.

This is a stripped back and honest movie devoid of any pretension. The script, by Phil Hay and Matt Manfredi, tells a wonderfully straightforward story that unfolds with unsettling tension. The use of flashbacks is such a clichéd and overused narrative tool these days but here it complements the plot and allows insight into Bell's fractured state without bogging down the film with too much backstory.
The script itself feels fresh in its execution, if not its plot. Undercover authorities infiltrate a gang of bank robbers isn't necessarily original. Throw in the charismatic cult like leader, Silas (Toby Kebbell), and the similarities become more nuanced. This isn't a 100% pure adrenaline ride however, and making the lead female adds an originality to it that would get lost in the shuffle had a male actor been cast in the part. Most female centred revenge thrillers revolve unfortunately around the rape of the protagonist, here Bell wants to avenge her past and get some closure to forgive herself for her own sins. Bell's character is flawed and fractured due to her own actions. She is responsible for her life and now looks set to make amends as she seeks absolution. Bell's relationship with her daughter Shelby (Jade Pettyjohn) further emphasises these points. As a subplot it adds weight to the main plot while supporting Bell's path of redemption. As the past catches up with the present her motives become clearer. It's easy to root for her even as her flaws are exposed.
Kidman is outstanding in the role, bringing a fragility to Bell that's masked by an inherent toughness. Her voice cracks under the pressure of simply speaking as she looks to take down Silas while patching together a relationship with Shelby. There's a tragedy in Bell that evokes pity as well as sympathy. It's arguably Kidman's best performance as she pours everything into the character.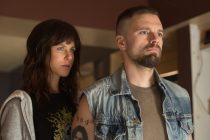 Kusama frames the violence with a candid eye, she pulls no punches at the beat downs Bell suffers. It's uncomfortable and it should be, the director not wanting you to sit too easily. She's also aware of when to cut away, two of the most shocking scenes happen off camera in quick succession. The lingering gaze that focuses on what we don't see creates a powerful scene that proves more effective had we been exposed to graphic gore.
The supporting cast are on fine form with Kebbell exuding a cold darkness that makes Silas frightening. He's a man with no compromise who commands a hold over the gang making him unpredictable and menacing. One of his generation's most underrated actors, it's great to see Kebbell sink his teeth into the role despite the limited screen time awarded to him. Sebastian Stan also stars as Chris, Erin's partner during the undercover sting. It's a fine performance by Stan who handles the duplicitous role with ease as his morals contrast with his assignment.
Overlooked by the Oscars, Kidman was nominated for a Golden Globe, it feels that Destroyer will fly under the radar during its cinema run. If so, hopefully it will find its audience in the home market. A grim and gritty drama with an excellent performance by Kidman, Destroyer will grip you gently but firmly and won't let go until the credits roll.
Writer, filmmaker, friendly neighbourhood storyteller. Believes Jaws to be the greatest film ever made and will go down swinging with that belief.
Latest posts by Thomas Simpson (see all)