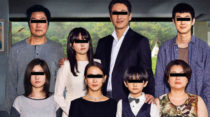 This week's brand-new Number 1 is Dolittle, debuting at the top of the Official Film Chart on digital downloads only. Starring Robert Downey Jr. as the eponymous character with the power to communicate with animals, the film flies straight to the top with a huge 45,000 sales. Onward returns to its peak of Number 2 thanks to its release across disc as 1917 drops to Number 3.
At Number 4, the critically acclaimed Parasite – the first foreign language film to ever win Best Picture at the Oscars – makes its debut, also making it the first-ever non-English language film to enter the Official Film Chart Top 10! The destitute Kim family orchestrate a plan to become servants for the wealthy Parks family by posing as qualified workers, while greed and class discrimination threaten the relationship that forms between the two families. Last week's chart-topper Bad Boys For Life drops to Number 5, as Cats claws up a place to Number 6. Little Women drops to 7; Frozen 2 stays where it is at Number 8.
Our third new entry is the Sci-fi horror, Underwater at Number 9. A massive earthquake devastates a drilling station at the bottom of an oceanic trench, and the crew must try to get to safety as they battle terrifying deep-sea creatures, darkness, and lack of oxygen. Finally, rounding off this week's countdown, Jumanji: The Next Level hangs on at Number 10.
This week's Official Film Chart features a preview of The Personal History of David Copperfield, starring Dev Patel alongside an all-star cast – Available to Download & Keep from June 13 and to buy on DVD & Blu-ray from June 15th.
Latest posts by
John McArthur
(see all)