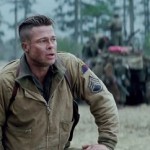 Saving Private Ryan raised the bar in terms of war movies. Its influence was felt in the many films that followed. It wasn't hard to hold Stephen Spielberg's epic tale of warfare up as the benchmark. That's why I approached Fury with mild trepidation. Despite a great director and cast, did we need another film about World War II?
It's April 1945 and the war is coming to an end. The Allies are making their final push into Nazi Germany alongside Don "Wardaddy" Collier (Brad Pitt). He is in command of an M4A3E8 Sherman tank called "Fury" and its five-man crew, consisting of Boyd "Bible" Swan (Shia LeBeouf), Grady "Coon-Ass" Travis (Jon Bernthal) and Trini "Gordo" Garcia (Michael Peña). When they lose their assistant driver they receive a new recruit, a recently enlisted typist, Norman Ellison (Logan Lerman), who immediately stands out from the battle-hardened squad. As his colleagues treat him like they would the new kid at school, Collier introduces him to the world as it is. The men clash when Ellison refuses to execute a captive Nazi which leads to Collier overpowering the younger man and forcing him to pull the trigger. Despite the trauma inflicted on Ellison, the incident proves to be the initial turning point in his relationship with Collier whose true persona is slowly revealed.
Fury is a not a film for the feint of heart, and neither should it be. Director David Ayer doesn't shy away from the horrors of the war, instead he forces his gaze upon the suffering, both physical and mental. There is a fair amount of gore on screen however it's not gratuitous. Despite the graphic blood and guts on display, Ayer focuses on the fractured relationships of the squad and their razor's edge environment. Collier lives up to his name as War Daddy as he strives to keep his men in check, chastising them when needed. During one tense dinner scene they test him and push his buttons, taking out their frustrations on Ellison, the new addition to their family .
Pitt excels as the rugged Collier. He's a man that's lived the hell of war for so long that it's now home. Although he comes across as uncaring, he's simply focused on ensuring that his men survive. His human side is exposed to us as he mourns the death of a man he killed in cold blood and when defending a young German woman (Alicia von Rittberg) from a ravenous Travis. Travis himself comes across as a one dimensional redneck brute, though Bernthal injects depth into him which slowly unveils along with the plot. LeBeouf should silence a few of his critics with his portrayal of the God fearing Swan. Despite his age, he acts as the eldest brother of the family, balancing the fine line of being the right hand of the father while sticking up for his brothers when he feels Collier is in the wrong.
It's inevitable that personalities will clash and tensions will rise when that much testosterone is enclosed to a steel confinement but the bromance between the men highlights their closeness. Peña's Garcia provides some light hearted lines that are welcomed just as things are boiling over, a much welcome relief in uncomfortable scenes. Ellison is brilliant as we see Lerman's transformation from a battle virgin to the man that earns the nickname "Machine". Lerman portrays the inferior soldier who is forced to toughen up, at least mentally, if he is going to survive and not be a liability. The bonds between the men may be clichéd however they're also relatable. Men can be arseholes to each other, but the worst is generally reserved for their brothers, be it by blood or some other affinity.
The set pieces are spectacular especially considering the film's low budget. The duel between Fury and the Nazi's German Tiger I is masterfully orchestrated as both tanks battle for dominance. The Nazi artillery is presented as an impenetrable monster, destroying all in its path as Ayer shifts the focus to Fury's inhabitants, highlighting how vulnerable the men are despite their armoured fortress. The suspense is turned up to 11 in the third act when the soldiers attempt to hold off a 300 strong army of SS troops. It's beautifully shot and an expertly crafted  finale that kept me glued to the screen until the credits rolled on an emotionally satisfying, and draining, climax .
If World War II films are to your taste, then Fury is for you. It brings something fresh to the genre yet will still feel completely familiar to audiences. Stephen Spielberg may have set the benchmark with Saving Private Ryan, with Fury, Ayer has drawn his own line in the sand.
Latest posts by
Thomas Simpson
(see all)