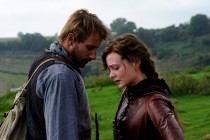 In Dorset, South of England in 1870 Gabriel Oak comes across a sight that will change the course of his life: the wildly beautiful Bathsheba Everdene laying on her back astride a horse. The lives of farmer Oak and Bathsheba are thereafter intertwined as they experience changes in fortune, the tragic consequences of frivolous mistakes and the pain of love and loss.
One of the wonderful things about Hardy's novel is the vivid, eloquent way he describes the English countryside, something that both Hardy and his protagonist, Farmer Oak, almost see as a divine presence. Director Thomas Vinterberg captures this expertly. From the start, the scenes are exquisite, the fields, flowers, and trees rightly given as much screen time as the actors. It has that slow feeling of a daydream on a field in late summer. Foreshadow makes otherwise ordinary scenes of sheep on a field look like the kind of photography that belongs in galleries or stately homes. The image of Farmer Oak on a precipice overlooking the sea in misery is haunting, and the vision of Bathsheba's barn on fire could easily be an impressionist painting. From start to finish it is a wonderful visual experience that reflects the often hidden tempestuous feelings in the hearts of the characters.
Bathsheba has never been one of my favourite female literary characters. She always seemed a little too silly to me to be truly inspiring, however, Carey Mulligan is a feistier, more spirited Bathsheba than Hardy's, and I much preferred it. I do remind myself that Hardy was revolutionary in his depiction of an independent woman as the driver of his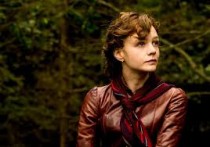 plot, in what at that time was most definitely a feminist novel written by a man. Older film fans will no doubt find it difficult not to compare Mulligan with Julie Christie's portrayal in the 1967 version. Certainly in beauty, it would be difficult to compare anyone to the sultry attractiveness of Christie. Mulligan is delicate and childlike where Christie is sensuous and unattainable. Mulligan is however a mature and talented actress who seems to have an incredible chemistry with every male lead she appears next to and the chemistry between her and Matthias Schoenart is the main reason I enjoyed this telling quite so much. Although both excellent actresses, Christie always seems like a movie star while Mulligan is much more like the characters she plays, real, but no less beautiful for it.
There has been criticism of Matthias Schoenart's performance as Farmer Oak. His accent rather upper class for a Dorset farmer, some critics also felt that he seemed preoccupied with his pronunciation. I will forgive his posh accent in exchange for his wonderfully aching portrayal of Gabriel Oak and for the incredibly romantic scenes he shares with Mullig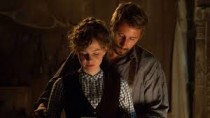 an. Every scene in which Oak is close to Bathsheba, his arms around her as she sharpens a blade, pulling her onto a hut, is heavy with longing, Vinterberg needing no words to convey the intense feelings of the two characters. Schoenart also happens to be gorgeous in his baggy white shirt and braces, epitomising the broad shouldered manliness as well as the gentleness of Gabriel. It is difficult not to fall in love with him.
Tom Sturridge is most definitely handsome enough in the dandy way that Sergeant Francis Troy should be although he still looks rather young and therefore less dangerous looking than Terrance Stamp. Troy is a very elusive character, very little of the novel is told from his point of view. Sturridge does add some depth and a tortured look to the reckless Troy. He is much less contrived, and the implication here is that he is a victim of his own passions as opposed to a selfish man without morals. Unlike the 1967 version which, a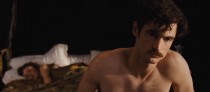 kin to many movies of that period, is very melodramatic, the performances and directing are much more subtle, more passionate and more tormenting. The scene where Troy displays his swordplay to Bathsheba in the woods is sensual in a quiet, breathless way, very different to Stamps prancing horseplay.
The third suitor of the vain Bathsheba is Farmer William Boldwood, played by Michael Sheen proving again his unique ability to truly embody any character he plays and steal every scene he is in. A moment of folly on St. Valentine's Day turns Boldwood from an immovable rock of a man, to a man sick with desperation, his attempts to woo Bathsheba amusingly awkward at first and increasingly desperate towards the end. The only fault here lies in leaving out parts of his story that would not only have given the audience more of Sheen, but a greater understanding of Boldwood's character and the circumstances that lead to the tragedy at the end of the story.
Far from the Madding Crowd is like watching a glorious country painting come to life before your eyes. The set design, location shooting, costumes and the soundtrack are authentic and gorgeous. The performances are subtle and the story full of passion and tragedy. I think despite the lukewarm reception, this is a movie that will stand the test of time and will only improve on further viewings. The cinematography must be enjoyed again and I would sit through the story repeatedly just to feel the satisfaction of that final scene, acted and shot perfectly.
Writer and film geek with as much love for the classics as the films that turn everything on its head.
Latest posts by Vhairi Slaven (see all)