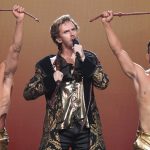 Up until recently, watching The Eurovision Song Contest was a bit of a guilty pleasure for many. It wasn't really something that you'd admit to at work or with your friends. It was seen as camp, kitsch and dated.
And, whilst the past few years have retained excessive levels of both camp and kitsch, it's undeniably attracting global audiences of millions and some pretty A-list fans (Justin Timberlake and Madonna have recently provided the "half time" entertainment for the show).
It turns out, Will Ferrell is one such fan. Teaming up with Wedding Crashers director, David Dobkin, the SNL alumni offers up a loving pastiche of the song contest in Eurovision Song Contest: The Story of Fire Saga.
Ferrell stars as Lars Erickssong, a man from a sleepy Icelandic fishing village who dreams of emulating his Eurovision heroes – and fellow Scandis – ABBA and taking home the prize at the international singing competition. Joined by lifelong friend (but definitely not his sister), Sigrit Ericksdottir (Rachel McAdams, on as fine a form as ever), he embarks on pursuing this dream.
There are a lot of winks to the camera for Eurovision fans during the movie. There are jokes about "no one likes Britain anyway" and "there are no gay people in Russia" peppered throughout. The Icelandic panel are torn between sending a truly excellent singer (a delightful cameo from Demi Lovato) or an act they know definitely won't win, because the country can't afford to host the show the following year. Step up, Lars and Sigrit, also known as "Fire Saga".
Ferrell predictably plays the fool, whilst McAdams really flexes her comedic chops – as she did in Mean Girls and Games Night – to great effect. The dialogue between them, at times, feels a bit ropey but, let's be honest, you're not watching this expecting philosophical pondering. You're here for the big set pieces and over the top performances.
Pierce Brosnan sounds less Icelandic fisherman and more Swedish chef, but he delivers his cutting one liners with typical Scandi stoicism.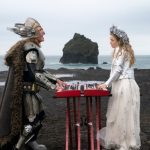 Arguably, however, the star of the show is Downton Abbey's Dan Stevens, who is clearly loving life as the definitely-not-gay Russian entry, Alexander Lemtov. He prowls around with his Princess Diana haircut, faintly glittered chest on display, offering Sigrit the world on a plate … If she ditches Lars.
Graham Norton makes a guest appearance, adopting his usual role as the UK commentator, and delivers his lines with as much relish and bitchiness as he does on the night itself. There are also some fantastic appearances from former Eurovision acts during one big giant singalong.
Like the competition itself, there is plenty of sequins and strobe effects as the increasingly ludicrous acts take to the stage. At times, it really does feel like you're watching the real thing – which makes up for this year's cancelled show.
There's also a truly banging soundtrack, as you would hope (the Cher / Madonna / ABBA mash up is a particular treat) and fantastic set and costume design.
I'm quite sure everyone from Glasgow watching the movie is wondering how the rainbow coloured SSE Hydro managed to transplant itself to Edinburgh, but that's just a minor niggle …
The film is much needed light-hearted fun. Sure, at times, it gets a bit cheesy about following your dreams, but there is a genuinely enjoyable piece of cinema here (probably not if you're not a Eurovision fan and don't get the jokes) that allows you to sit back and take in the spectacle, even if it doesn't deserve the full douze points.
Eurovision Song Contest: The Story of Fire Saga is now streaming on Netflix.
Latest posts by Mary Palmer
(see all)