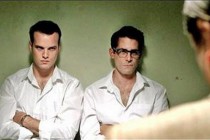 The first trailer for Fall Of The Krays has just been released. The film is the follow up to The Rise Of The Krays released earlier in 2015. it picks up the action at the end of the first movie which saw the Kray brothers rise to the top of the London crime scene (Spoilers for real life, sorry!). As it always goes, once you reach the top there is only one way to go. Down.
The actors Simon Cotton and Kevin Leslie return as the brothers in the ambitious independent UK production. The first film was unfairly compared to the Tom Hardy film Legend and was  actually not too bad. You can view the review here.
Fall Of The Krays is released in cinemas and on VOD platforms on the 1st of January 2016.
Latest posts by
John McArthur
(see all)