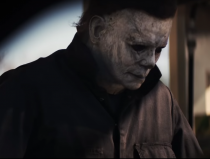 Horror fans rejoice, for Michael Myers is coming home this Halloween. The new movie will be the 11th instalment in a franchise that's seen sequels, retcons, remakes and even a standalone instalment since the original premiered in 1978. The new movie, titled simply Halloween, will discount the sequels and serve as a direct followup to John Carpenter's classic, which is one of the many reasons to be excited.

The sequels went off the rails, particularly by Part 6, when a convoluted backstory was introduced to explain Myers' seeming immortality (more info can be found by clicking here). Blumhouse are producing the film, the company who are responsible for many of the best horror movies in the past decade. If that doesn't convince you, Jamie Lee Curits reprises her role as Laurie Strode and John Carpenter is on board as a composer, executive producer and creative consultant for the film. Oh, and Nick Castle, who portrayed Michael Myers in the original film, is reprising his role for the first time since the original. Stuntman James Jude Courtney was also cast as Myers with both performances woven together for Green's vision of The Shape.
This won't be the first time that the series has looked to erase its past, with Halloween H20 serving as a direct sequel to Halloween II, again wisely ignoring what was in-between. This time 40 years have passed and Strode is prepared for one final showdown with Myers who escapes from the mental facility with murder on his mind.
Directed by David Gordon Green and written by Jeff Fradley, Green and Danny McBride (yes, that one), Halloween is scheduled for release on October 19th, 2018.
Check out the trailer below and let us know your thoughts in the comments.
Writer, filmmaker, friendly neighbourhood storyteller. Believes Jaws to be the greatest film ever made and will go down swinging with that belief.
Latest posts by Thomas Simpson (see all)