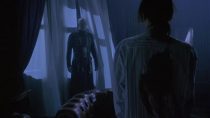 The Hellraiser franchise has firmly found its new home on DVD and the quality continues to suffer, although not as beautifully as Pinhead would like. Hellraiser: Deader started life as an unrelated spec script by Neil Marshall Stevens, also titled Deader, which was rewritten by Tim Day to shoehorn in any relation to the series. Day, to his credit wanted to write a direct sequel to Hellseeker which would feature a final conflict between Kirsty Cotton and Pinhead. Bob Weinstein wanted to imitate the tone of highly popular Japanese horror, The Ring and The Grudge, and instructed day to make Deader a Hellraiser film. Rick Bota returns as director and although Hellseeker had its moments, Deader does not.

A mysterious videotape is uncovered which depicts a ritualistic murder by a cult called the Deaders. More disturbing is that the dead don't stay dead for long and are resurrected soon after. Reporter Amy Klein is sent to Bucharest to investigate the tape. When she tracks down the sender, Marla (Georgina Rylance), Amy finds her dead, her corpse clutching a mysterious puzzle box that fans will be familiar with. Determined to get to the truth of the cult, Amy has to battle personal demons as well as those very much from hell.
While Deader has an interesting idea at the heart of the script, it does not work as a Hellraiser movie. Plot points are poorly reworked to make a tenuous link and although a particular twist shows promise, it's badly executed and hurriedly brushed over. Bradley's Pinhead makes a cameo in the third act to remind people that they're watching a Hellraiser movie. It's a waste his talents as the turgid pacing of the story accelerates in the last fifteen minutes as the filmmakers appear desperate to wrap things up.
There is little satisfaction to be taken from Deader which appears to exist for the sake of producing another Hellraiser instalment. It was also filmed simultaneously with Hellraiser: Hellworld (which would become the eighth film) in order to save money. The studio clearly showing no interest in the quality of the franchise while terrified of losing the rights to a competitor. It offers no rewatch value and it's best feature serves as a reminder of how much better the previous two straight to DVD sequels are. One for those looking to complete their collection only, Deader doesn't have such sights to show you.
Latest posts by Thomas Simpson
(see all)