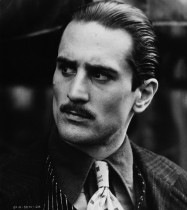 This week sees an iconic piece of cinema history making a return to the big screen. The Godfather Part II has been given the 4K restoration treatment to make it look better than ever before. Widely regarded as the best sequel ever made and in some quarters more highly regarded that its predecessor.
The film (for those of you that having been living in a cave) looks to the past and the future of the Corleone family. One strand details the rise of Vito from his arrival in New York as a small boy, making his way quietly in the world and the circumstances that lead him to be to running one of the five crime families in the city. Mixed in with this is the story of Vito's son Michael as he tries to steer the family away from the world of crime and leave a legacy for his own son to inherit. The two stories are expertly weaved together by director Francis Ford Coppola highlighting the common struggles and issues that the two generations of powerful men face.
The film is notable for the two lead performances of Robert De Niro and Al Pacino. Both are powerful performances that totally dominate the screen and raise the film to its highly regarded status. The restored version of the film premiers at the BFI in London on 21st of February and will be given a UK wide release at selected cinemas the following week.
Latest posts by John McArthur
(see all)