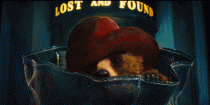 As we previously reported this year sees the big screen debut for the bear from deepest, darkest Peru. The teaser trailer for the movie has been released to build up the excitement before the movie release at the tail end of the year.
The teaser gives just a glimpse of how Paddington will look and has no dialogue or sight of any of the human characters. No doubt that will come with a proper trailer nearer the time of release. The film will star Colin Firth as the voice of the Marmalade munching hero. Able support comes from an impressive list of actors including Hugh Bonneville, Sally Hawkins, Julie Walters, Jim Broadbent and Nicole Kidman.
The basic story sees the curious bear travel to London in search of a home. The Brown family take him in after finding  him at Paddington station with a tag round his neck stating 'Please look after this Bear, Thank you'. Unfortunately the bear has caught the eye of an unscrupulous taxidermist that sees a profit to be made from the rare fur that has just arrived in town.
Paddington will be released on the 28th of November. A long time to wait. Can you bear it?
Latest posts by John McArthur
(see all)