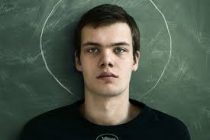 Coming soon from Matchbox Pictures is  the new Russian language film, The Student.  The film, originally titled (M)uchenik, has won numerous awards including, most recently, Best Film and Best Actor at the inaugural UK Russian Film Week. The film tells the story of Venya, who believes the world is nearing its end. He studies the Bible obsessively, incessantly quoting chapter and verse. His refusal to undress for swimming lessons is the unusual first step on a path to religious fanaticism. Conflict with his mother and classmates develops into a confrontation with his biology teacher Elena, as he objects to her Darwinian theories of evolution and 'modern' teachings on sex and homosexuality.
Adapted from Marius von Mayenburg's controversial play 'Martyr', the film transfers the action to modern-day Russia. It is a searing and satirical work which features strong performances from the entire cast and, in particular, Pyotr Skvortsov, as well as showcasing award-winning director Kirill Serebrennikov as a shining light in contemporary Russian cinema.
The Student will be in UK cinemas on the third of March.
Editor-in-Chief at Moviescramble. A Fan of all things cinematic with a love of Film Noir, Sci-Fi and Julia Roberts in Notting Hill. He hopes to grow up some day.
Latest posts by John McArthur (see all)