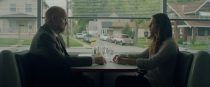 Getting its premiere at this years Sitges Film Festival is the Sci-Fi drama Curvature. The film is the second feature from director Diego Hallivis and features the acting talents of Lyndsy Fonseca, Noah Bean, Glenn Morshower and  Linda Hamilton.
Helen Phillips (Lyndsy Fonseca) is a young engineer struggling with the heartbreak of the recent suicide of her husband, Wells Phillips (Noah Bean), a physics genius and co-founder of Curvature Research.  He was on the cusp of his greatest professional triumph—a time machine prototype shrouded in secrecy—until his long-simmering depression became uncontrollable. Helen's grieving is interrupted when she wakes up one morning, dishevelled and panicked, her memory damaged. The phone rings and a voice, sounding uncannily like her own, warns that she's in danger. Soon Helen is on the run from unknown pursuers while she follows a trail of clues she seems to have left for herself to find. She quickly realises that she has actually travelled thirty-six hours back in time, but why? Is it to uncover the truth about her husband's death? Or is it, as she soon suspects, to stop the past version of herself from committing a violent and irreversible crime? A mind-bending time travel drama in the vein of Timecrimes and Looper, Curvature examines the difficulty of letting go, while asking how much you would risk to do what you believed was right. 
Of the film the director said " My favourite films are elevated science fiction stories that utilise the possibilities of the genre to tell us something substantial about being human. In the case of Curvature, the film raises a number of fascinating questions: how would you react if you had the chance to travel back in time? What would you do if you lost the love of your life? Could you handle the responsibility of changing the future by altering the past?
Curvature plays, moment by moment, as a psychological thriller in which Helen is struggling to comprehend what is happening as she suffers from memory loss and flashbacks that blend her reality with vivid dreams. We, as the audience, go through this journey along with Helen, our emotions equal to those that Helen is experiencing. Just as Helen discovers the crimes of the past version of herself, we discover them as well, the perspective of Helen and that of the audience fusing into one. The creative approach towards the film was to develop a genre-bending film, part sci-fi and part psychological thriller, in order to create a story equally suited for genre fanatics and art house cinephiles. It is designed to have the dramatic approach and depth of an intimate character study. It uses a sci-fi framework to create the tension of a thriller, and its fast-paced action sequences give it the explosiveness of a chase film."
Curvature will screen at the Sitges Film Festival on the 9th of October.
Editor-in-Chief at Moviescramble. A Fan of all things cinematic with a love of Film Noir, Sci-Fi and Julia Roberts in Notting Hill. He hopes to grow up some day.
Latest posts by John McArthur (see all)